Spas

PUNTA CANA spa
PUNTA CANA spa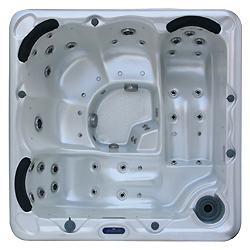 Recommended retail price 2023 starting from :
Our Price starting from :
Ref. Abatik 008358
Punta Cana spa
For 5 persons, 2 lounging zones, 3 sitting positions,
49 jets with chrome nozzles,
12 air jets - Aristech® acrylic tub,
198 x 198 x 84cmH, ozone generator, blower,
LED lighting, waterfall
In stock
Discover the PUNTA CANA spa: 5 person capacity, 2 lounging, 3 sitting. 49 hydro and air jets, detailed design and optimised capacity.
The PUNTA CANA spa features a detailed finish.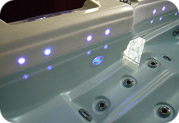 Integrated LED lighting in the body of the tub as well as the main projector.
The PUNTA CANA uses an air blower to power it's 12 air jets and a waterfall feature. An ozone treatment sanitises the spa water.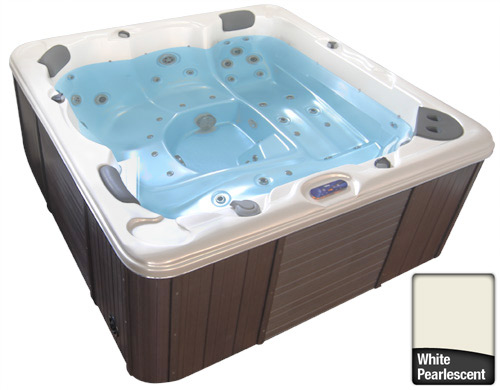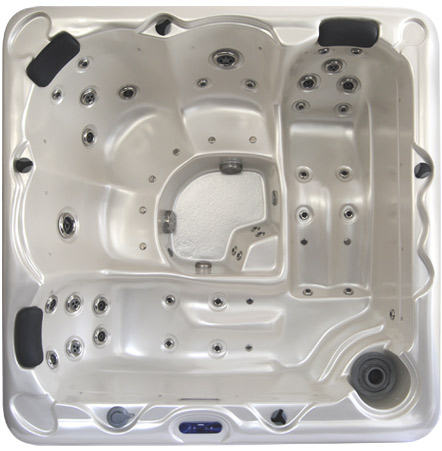 Birds eye view: 5 person capacity, 2 lounging, 3 sitting, massage nozzles and spa suction plug, skimmer, control panel and regulating valves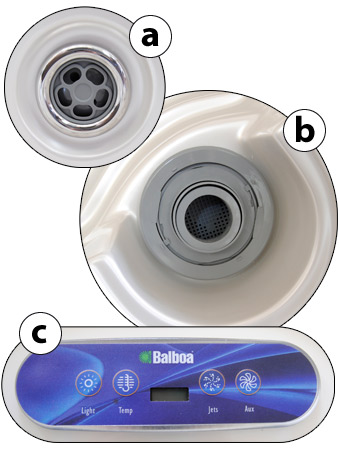 A - Chrome Jets
B - Floating skimmer ensuring quality filtration
C - User-friendly digital control panel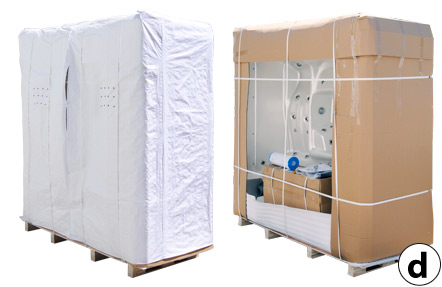 D - Protective packaging: Your spa arrives in perfect condition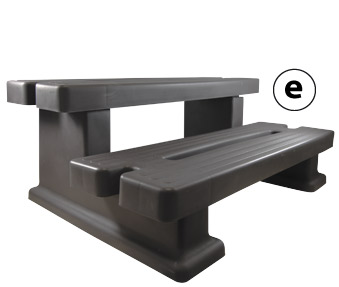 E - The 2 step walk-up and thermic cover are your gifts
Jets
Equipped with 49 chrome jets for greater sitting comfort.
The spa is equipped with various types of nozzles, giving a wide choice of massages. You can totally personalise your massage by choosing to close certain nozzles and leave others open, distributing and concentrating water flow to a particular zone.

Details of spa nozzles :

F - Rotating nozzle
: an internal disk creates a rotation of the nozzle which in turn,

produces a rotating jet of water. This rotation provides a strong, deep massage on vast zones of the body.

G - Directional / adjustable nozzles
: small or large version

For a directional massage to treat muscular or joint pain.

H - Integrated waterfall
, with backlit lighting feature.

I - Blower Jet
: to diffuse air bubbles throughout the spa.

Thousand of air bubbles have a massaging effect and create water movement.

Venturi controls
Three Venturi regulators
(control the air/water flow).
Independently actioned, regulating massage pressure naturally via conveyed air.
This procedure allows you to choose the desired massage intensity.

1 - Valve in open position

Jet sending air into spa water

2 - The valve in closed position.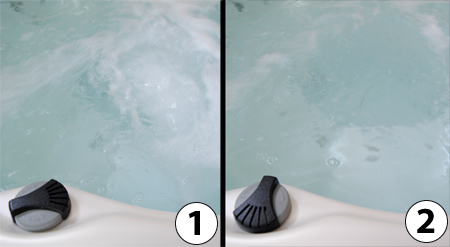 Choice of utilised zones in spa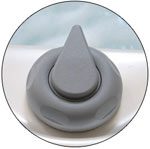 You will find the power control on the top left-hand side of the control panel
that enables you to choose the zone of the spa you wish to use.


It doesn't matter if you use the spa solo or at full, 5 person, capacity,
you will always benefit from total comfort.

Inclined to the left, you can use
one sitting zone and two seats are actioned
Inclined to the right, one sitting zone and one seat.
Central, all jets are actioned.

Technical details
Total number of hydro massage jets
37
Number of foot massage jets
6
Electronic equipment
Balboa®
Capacity of users
5, 3 sitting, 2 lounging
Dimensions of spa
198 x 198 x 84 cm
Acrylic tub
Reinforced Aristech®
Electrical supply
220 V/ 50Hz
Volume of water
1700 litres
Supporting floor weight
495 Kg/m²
Lighting features
peripheric LED + spa floor spot
Water treatment
ozone generator
Cover
Ridgid thermic cover with locking system
Insulation
High-density polyurethane foam
Filtration
High density skimmer + 3 suction plugs
Venturi regulating valve
3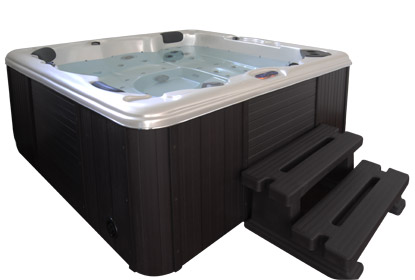 Maintenance of floating skimmer
The Punta Cana spa is easy to maintain. Using an automatic ozone generator to sanitise the spa water in complement to chemical product treatment.

A filtering cartridge placed under the floating skimmer (ref photo to right) captures impurities contained in the spa water.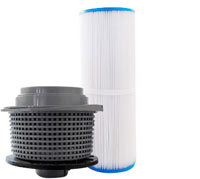 Skimmer
Complimentary maintenance products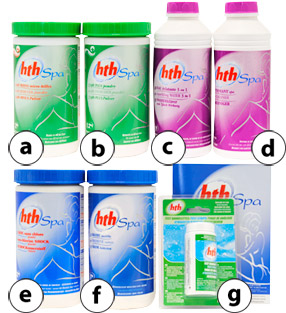 The complementry treatment box contains :

A - 2 kg of
pH - micro balls

B - 1,2 kg of
pH + powder

C - 1 L
Radient water 3 in 1

D - 1 L
spa cleaner

E - 1,2 kg of
shock without chlorine

F - 1 kg of
bromine pastels

G - 1 tube of
water test bands
(25 bands)

water treatment guide for spa
Bacteria and algae are destroyed by the combined action of the ozone generator and chemical water treatment products. One or two bromine pastels are placed in the skimmer, the spa water pH should be balanced.
Warranty
10 years on tub
2 years on all other parts
2 years on cover and head rests
Photos non-contractual
Price incl. VAT
Ask for a free quote punta cana spa
Other product : PUNTA CANA spa
Starting from 8373 eur Including VAT.
Please fill in this form carefully. Our commercial service will handle your request promptly.
---
UK freephone hotline
Monday Friday 9.00 19.00, Saturday 10.00 18.00

---
Spare parts order
You are looking for a spare part for «PUNTA CANA spa» ?
Please click the button below. Our commercial service will handle your request promptly.