Spas

Phoenix spa
Phoenix spa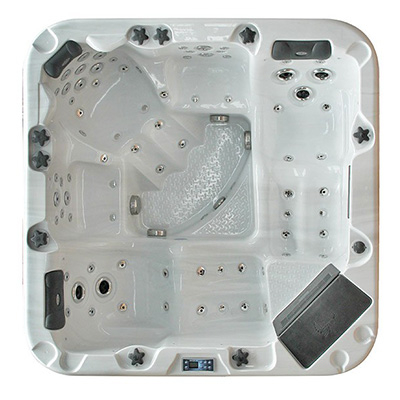 Recommended retail price 2023 :
Our Price :
Ref. Abatik 023363
Ref. Provider ARIZONA
Phoenix spa 5 person capacity with 2 lounging zones
5 person capacity spa with 2 lounging zones
70 water jets, 8 air jets
Waterfall feature with LED lighting
Aromatherapy function
Venturi air control for personalised massage
In stock
The Phoenix spa enjoys a 5 person capacity featuring 3 sitting and 2 lounging areas. Spacious, ergonomic seats offer a comfortable leg area.

The control panel of the Phoenix spa allows easy lighting, temperature and massage adjustment by the simple push of a button. Venturi air control personalises air control depending on your requirements.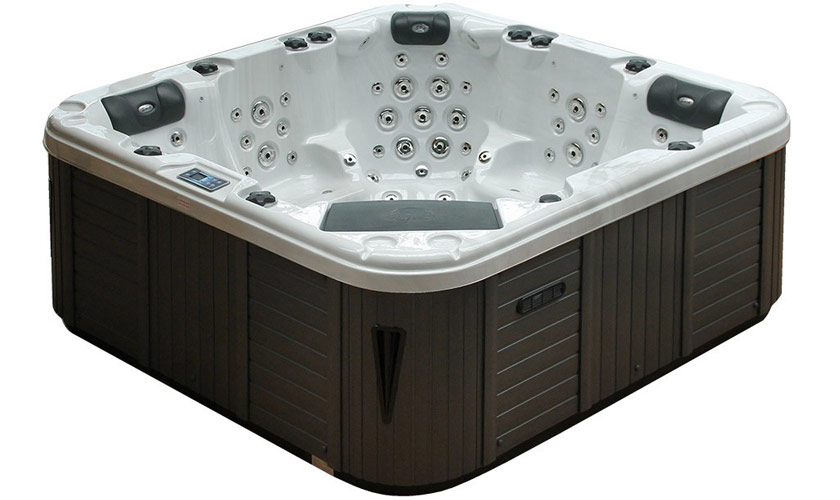 Three comfortable headrests equipped with LED lighting are positioned to ensure head support during your relaxation session.
The Phoenix is equipped with an aromatherapy function that can diffuse soothing essences into the atmosphere and the Aqua Rolling massage to release muscular tension.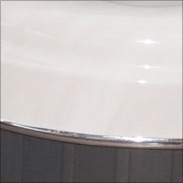 Multilayer tub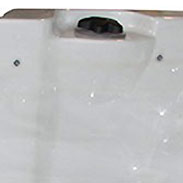 Atmospheric peripheral LEDs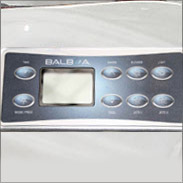 Control panel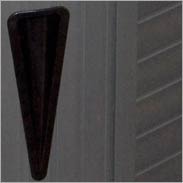 PVC outer casing with LED lighting at angles.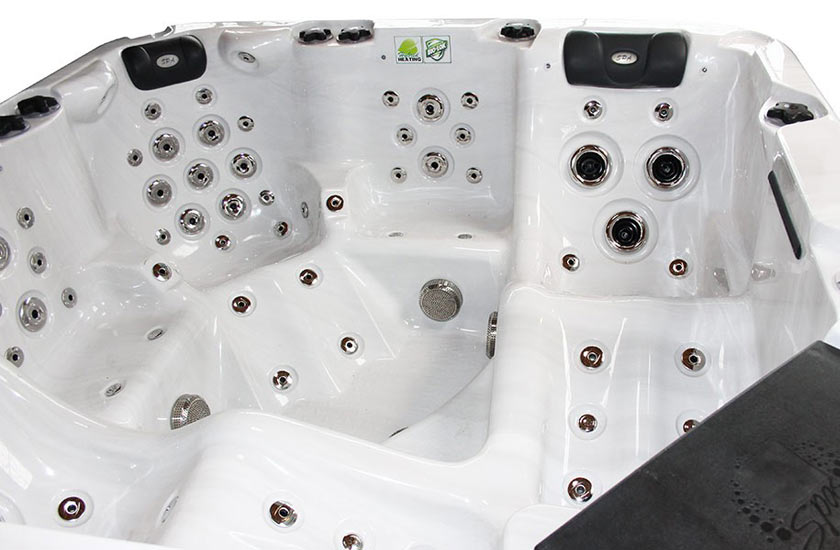 Dimensions
• Length : 204 cm
• Width : 204 cm
• Height : 85 cm
• Empty weight : 250 kg, full weight : 1630 kg
• Capacity : 1380 litres

Jets, comfort, places
• 3 sitting and 2 lounging areas
• 70 massaging hydrojets
• 8 air jets serving 3 zones
• 3 comfortable head rests with integrated LEDs
• 18 atmospheric LED's
• Waterfall feature and aromatherapy function
• Waterfeature with LED lighting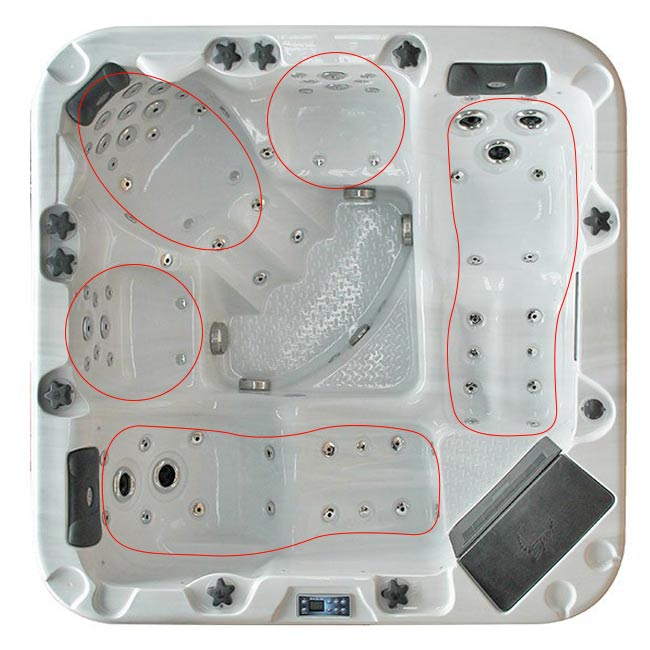 Clean water is essential to fully enjoy your spa. This is why the filtration system of the Phoenix operates with two micro filter cartridges that stop fine particles. The skimmer basket retains impurities that are easily removed during cleaning.
For total hygiene, the Phoenix is equipped with an Ozonator that disinfects and cleans water. This water treatment system destroys micro-organisms and bacteria by oxidation.
Phoenix spa in detail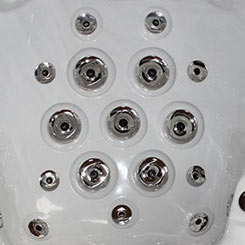 70 water jets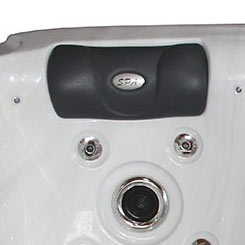 Comfortable head rest with integrated LED's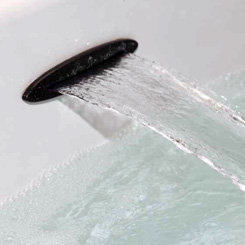 Waterfall feature with LED lighting
The spa tub is composed using a leaf of Lucite® acrylic, renowned for quality, resistance and durability.
Successive layers of thermal insulation are positioned between the outer casing and tub to avoid heat loss. A complementary polyurethane insulation as added to the inner area. This recuperates and absorbs calorific energy generated by the spa pumps and electrical material to heighten or maintain water temperature.
The Phoenix is delivered with a thermal cover. This is to avoid water evaporation and to maintain the spa at a good temperature. The cover equally limits spa access.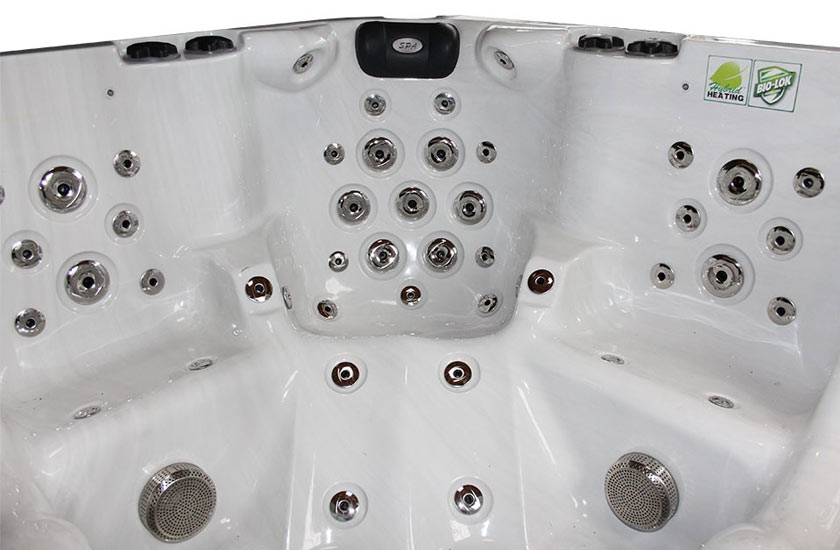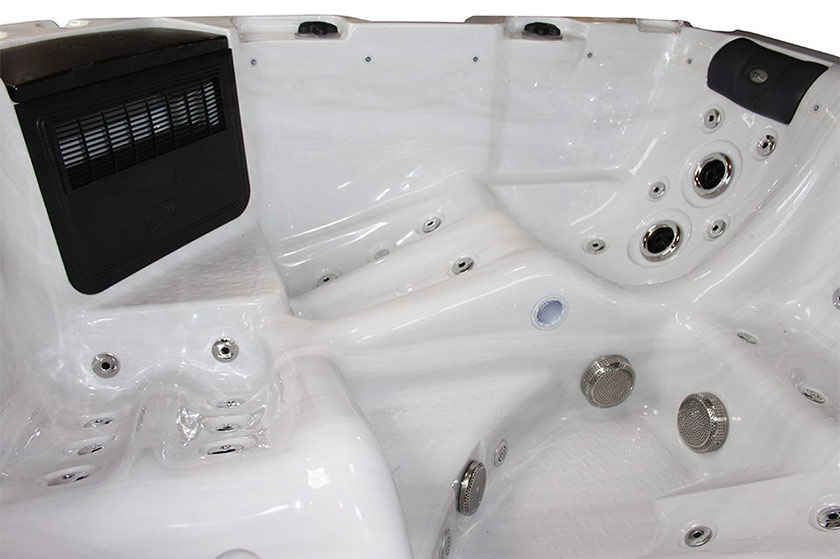 Technical characteristics
Outer casing
PVC - low maintenance
Insulation
Polyurethane against the tub. Thermo reflective against outer casing.
Base/cover
Impermeable and insulating ABS
Pumps
2x 3HP pumps, 1x 200W circulation pump, 1x 300 W blower
Ozonator
600 mg/h water treatment
Air control
Venturi (personalised massage)
Filtration
Programmable high flow with micro filter cartridge
Underwater lighting
Multicoloured LED
Lighting
2x on two corners of outer casing
Required electrical capacity
230 V / 20 A
Warranty
10 years on structure
5 years on tub
2 years on material
Photos non-contractual
Price incl. VAT
Ask for a free quote phoenix spa
Other product : Phoenix spa
At best price 8240 eur Including VAT.
Please fill in this form carefully. Our commercial service will handle your request promptly.
---
UK freephone hotline
Monday Friday 9.00 19.00, Saturday 10.00 18.00

---
Spare parts order
You are looking for a spare part for «Phoenix spa» ?
Please click the button below. Our commercial service will handle your request promptly.