Spas

Trinidad spa
Trinidad spa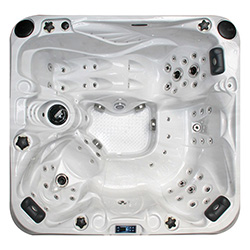 Recommended retail price 2023 starting from :
Our Price starting from :
Ref. Abatik 013655
Ref. Provider NEW PLEASURE
Trinidad spa 5 person capacity
5 person capacity, 4 sitting, 1 lounging
48 water jets, 8 air jets,
Audio system for ipod,
Aromatherapy,
Venturi control (personalised massage)
In stock
The Trinidad spa
It offers a convivial, relaxing moment to share with family and friends.
The spacious tub has an easy capacity for 5 persons to fully benefit from 48 strategically positioned massage jets that can air specific zones, allowing you to holistically relax.
You can easily reach the control panel from the spa, simplifying your control over programs and settings.
Using Venturi controls, the Trinidad spa gives the possibility to regulate your massage intensity, associating air and water for a sensation of well-being throughout the body.
YouTube conditions the playback of its videos on the deposit of tracers in order to offer you targeted advertising based on your browsing.
By clicking on "I authorize" the plotters will be deposited and you will be able to view the video. You have the option of withdrawing your consent at any time.

For more information, visit the YouTube cookies policy
.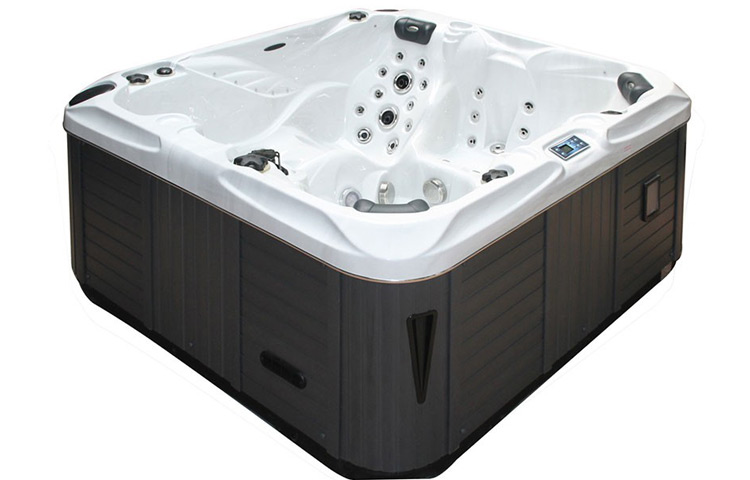 The Trinidad spa provides an aromatherapy system that diffuses soothing essences in the water as well as the Aqua rolling massage system that re-transcribes the palpated / rolling massage technique.
The Trinidad spa is equipped with a Balboa water heater to ensure a perfect temperature at any time.
To ensure total comfort, each seat is designed to allow a total immersion of the body with impeccable posture, preserving the efficiency of jets.
The spa tub is finished with a thermoformed leaf of Lucite® acrylic, which evokes quality, resistance and durability.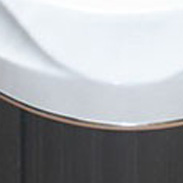 Multi-layer tub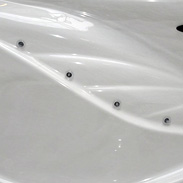 LED mood lighting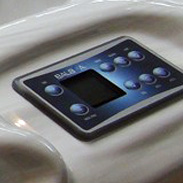 Control panel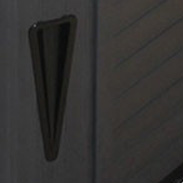 PVC outer casing with LED lighting at angles.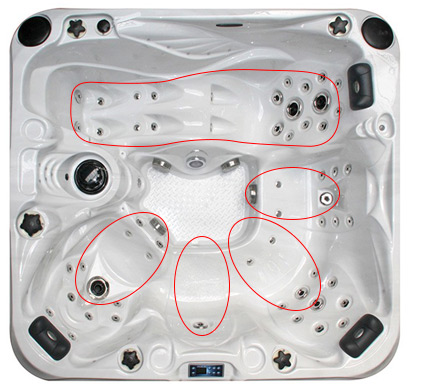 Dimensions
• Length : 215 cm
• Width : 200 cm
• Height : 91 cm
• Empty weight : 320 kg, full weight: 1590 kg
• Capacity : 1270 litres

Jets, seating and comfort
• 5 seats, 1 lounging zone
• 48 hydro jets + 8 jets
• Venturi controls (personalised massage)
• 1 waterfall
• 20 LED mood lighting features
• 3 soft headrests
• Aromatherapy function
• Aqua rolling massage system
• Audio system for iPod + 2 speakers
The comfortable headrests give you head support, the lateral support system maintains your body in an ergonomic position.
Trinidad spa features an audio system including two integrated, waterproof speakers designed to function with iPod.
Trinidad spa in detail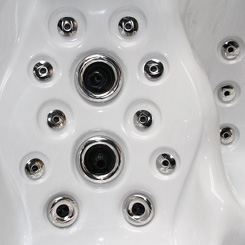 48 water jets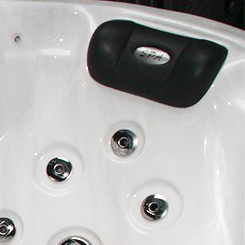 Comfortable head rest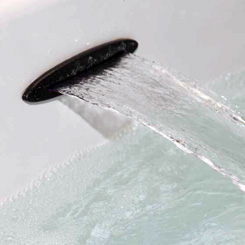 Backlit waterfall
The filtration system of the Trinidad spa uses two micro filter cartridges, maintaining clean water. The ozone generator destroys bacteria present in water, reducing your chemical water treatment product budget and limits the risk of skin and eye irritation.
For perfect integration in your garden or terrace, the outer casing is made from elegant, labour-free PVC.
Technical details
Outer casing
Labour free PVC
Insulation
Polyurethane against tub
Insulation
Thermo-reflective against outer casing.
Base/hood
ABS waterproof and insulating
Projector
Multicoloured subaquatic LED
Water treatment
Ozone generator 600 mg/h
Pumps
2 3HP pumps, 1 250W filtration/circulation pump, 1 300 W blower
Filtration
Programmable high flow microfilter cartridge
Lighting features
2 on two contours of the outer casing
Required electrical supply
230 V / 20 A
Supplied with a thermic cover securing spa access, conserves water temperature and limits evaporation.
Warranty
10 years on structure
5 years on tub
2 years on all other material
Photos non-contractual
Price incl. VAT
Ask for a free quote trinidad spa
Other product : Trinidad spa
Starting from 8490 eur Including VAT.
Please fill in this form carefully. Our commercial service will handle your request promptly.
---
UK freephone hotline
Monday Friday 9.00 19.00, Saturday 10.00 18.00

---
Spare parts order
You are looking for a spare part for «Trinidad spa» ?
Please click the button below. Our commercial service will handle your request promptly.