Automatic water treatment and products

Salt water treatment, Salt electrolysis

REDOXMATIC electrolysis regulation
REDOXMATIC electrolysis regulation
REDOXMATIC SEL automates chlorine production in all electrolysis systems. This unit actions and ceases electrolyser operation following its set range.
Redoxmatic permanently measures the level of chlorine present in your pool water. When this reading strays from the set range, REDOXMATIC actions the electrolyser and commences chlorine production.
By using regulation, you can economise your electrolyser operation and prolong your cell life.
Using a backlit LCD screen, showing the level of product present in water.
Adapted to all brands and models
Using integrated double regulation, many configurations are possible to enable liquid chlorine or bromine, adapting to all pools, residential or public.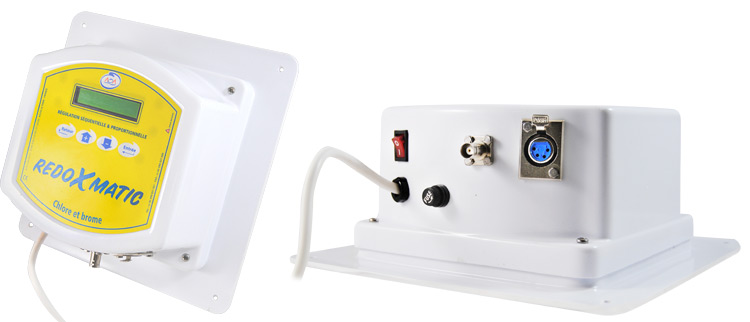 Warranty
2 years
Photos non-contractual
Price incl. VAT
Ask for a free quote redoxmatic electrolysis regulation
Other product : REDOXMATIC electrolysis regulation
At best price 449 eur Including VAT.
Please fill in this form carefully. Our commercial service will handle your request promptly.
---
UK freephone hotline
Monday Friday 9.00 19.00, Saturday 10.00 18.00

---
Spare parts order
You are looking for a spare part for «REDOXMATIC electrolysis regulation» ?
Please click the button below. Our commercial service will handle your request promptly.