Automatic water treatment and products

Salt water treatment, Salt electrolysis

Astral Sel Clear 30, 55 and 95 salt electrolyser
Astral Sel Clear 30, 55 and 95 salt electrolyser
Recommended retail price 2023 starting from :
Our Price starting from :
Ref. Abatik 022750
Ref. Provider 60219NEW
ASTRAL SEL CLEAR electrolyser for pools up to 30m³
Automatic treatment by salt electrolysis,
Auto-clean cell using polarity inversion,
Command module and electrolytic cell,
Pool cover detector,
Made in France

In stock
Astral Sel Clear, total efficiency at your pool's service
Innovating, the
ASTRAL SEL CLEAR electrolyser
has been designed to produce chlorine by salt electrolysis to disinfect your pool. Quality components and easy installation make this model a leader in the European pool water treatment market.
Self-cleaning cell
To simplify maintenance, the cell plates auto clean using polarity inversion. With time, plates can form limescale deposits which lessen their performance. Smart Salt regularly inverts polarity, removing limescale. This procedure lengthens the lifespan of the cell and electrolysing quality. The unit regularly inverts the polarity of the current between the two plates to remove any deposits. This procedure guarantees the lifespan and quality of operations. The visual signals PROD 1 and PROD 2 indicate the position of polarity - standard or inverted. Depending on your water quality (TH), the frequency of polarity cycle inversion can be programmed between 1 and 99 hours.
Water quality (TH)
Frequency of polarity inversion
between 50° and 20° TH
from 4 to 20 hours
< 20° TH
from 20 to 99 hours
Pool cover detection
The ASTRAL sel clear electrolyser
features a connection which can be linked to your shutter limit management sensor. Using this sensor, the electrolyser detects if your pool shutter is closed and adapts chlorine production. When a pool is covered, UV's no longer penetrate the water surface and photosynthesis is suspended, reducing bacteria and germ reproduction. Chlorine requirements are reduced, Astral sel clear automatically reduces production by 50%.
Switched-mode power supply
ASTRAL sel clear
uses a switched-mode power supply that offers many advantages.
-Reduced housing weight for easy installation.
-Reduced power consumption (compared to classic linear installations) because power dissipated from 230/12V has better canalised.
-Improved lifespan for your equipment as using switched-mode reduces power variations and minimises power surges on the components of the control module.
Presentation of the range
The
Astral sel clear
is available in three models, depending on the volume of your pool :
- Astral sel clear 30 : For pools up to 30 m³
- Astral sel clear 55 : For pools up to 55 m³
- Astral sel clear 95 : For pools up to 95 m³
The Astral sel clear has been designed to efficiently and automatically disinfect your pool water.

Sunrays, germs and algae contaminate your pool water. Using electrolysis, Sel clear uses the chemical properties of salt and generates active chlorine without constraint for pool users : no eye or skin irritation, no allergy risk, no discoloration for swimwear or hair.
Sel clear is commanded by a user-friendly control module.

The unit is associated with a transparent electrolytic cell through which pool water circulates.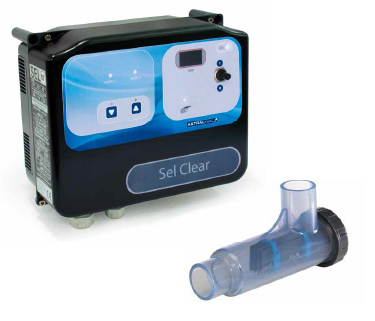 Salt electrolysis as easy as 1,2,3 !!!!
1. Introduce salt to your pool water - approximately 4 grams per litre of water.

2. Switch on the electrolyser.

3. Using seven titanium plates coated with ruthenium oxide, the Astral sel clear separates sodium (Na) and chlorine (Cl), which are the two elements that form salt (NaCl). The isolated element containing chlorine dissolves instantly in contact with water, producing hypochlorous acid (HClO). This powerful, active agent destroys germs and bacteria leaving your pool water clean and healthy.
Astral sel clear is a complete water treatment system for your pool, that improves water quality, reduces the use of chemical treatment products and eases maintenance. From time to time, salt must be added to pool water to compensate the loss of salt concentration present in pool water because of filter backwash.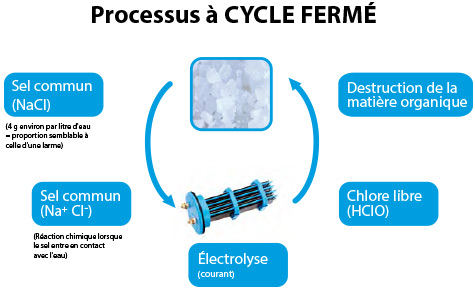 Installation
The
Astral sel clear
electrolyser is installed quickly and easily in a linear mode or by using a by-pass (by-pass kit not supplied). To avoid friction loss, we recommend by-pass installation as this allows the water flow to be adjusted in the call and not have to disrupt the filtration system if you need to switch off the electrolyser.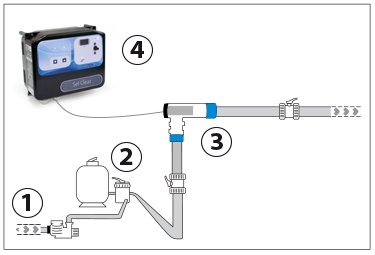 Linear installation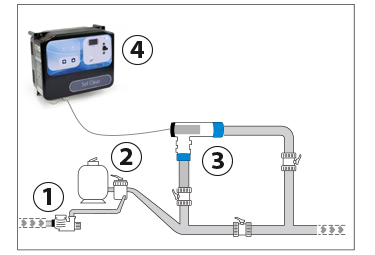 By-Pass installation (recommended)
Electrical connection:
The Astral sel clear requires a 230V 50 Hz single phase power supply with 30 mA protection.
The unit should be installed at least 3m50 from the edge of the pool. The power cord is supplied with the control module.
A qualified technician should install the material. A
pool-terre
earth connection is imperative to eliminate stray currents that can cause corrosion to your metallic equipment such as ramps, ladders...).
Connection to the electrolytic cell :
The cell is connected directly to the control module using cable rings situated at the end of the supplied connection cable.
Flow detector (available on option)
The Astral Sel clear can be equipped with a water flow detector allowing the suspension of electrolysis if water no longer circulates through the cell plates. This security precaution avoids the accumulation of chlorine gases in the cell and avoids all risk of explosion. This also enables chlorine production to stop during backwash cycles. The flow detector is connected using a BNC connector to the control module and a paddle clamp on the systems pipework.
PH regulation (on option)
pH measures the acidity of pool water on a scale of 0 to 14. An ideal pH for pool water is between 6,8 and 7,6. An acidic pH level, (less than 6,8) is aggressive to mucosa, causes metallic corrosion and can damage the pool liner. Water containing a basic pH level (over 7.6) can be equally aggressive to the skin and diminish disinfecting properties of chlorine.
Salt heightens the water pH level, requiring specific attention and intervention to maintain chlorine efficiency and swimming comfort.
We recommend the use of a pH regulator to totally automate your pool water maintenance.
The
SMART pH peristaltic dosing pump
(available on option) contributes efficiently to the pH regulation of your water. Easy to use, measuring the pH level using an ultra-precise probe.
If pH is not in range, correction fluid is sent to the pool water.
Quietly run and compact, this dosing pump analyses and corrects your pool water for you.
Features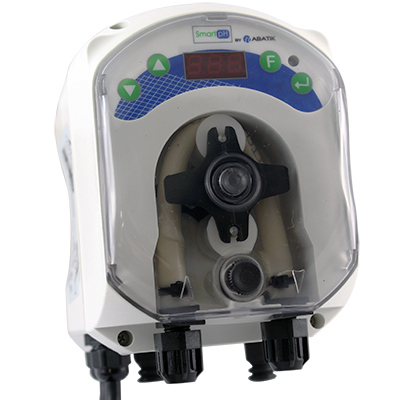 | | | | |
| --- | --- | --- | --- |
| Model | Astral sel clear 30 | Astral sel clear 55 | Astral sel clear 95 |
| Max volume of pool | up to 30 m³ | up to 55 m³ | up to 95 m³ |
| Dimensions | 200 x 250 x 110 mm | 200 x 250 x 110 mm | 200 x 250 x 110 mm |
| Weight module | 1,7 kg | 1,7 kg | 1,7 kg |
| Max production. (in g/h) | 7,4 | 12,9 | 18,5 |
| Salt level present in water | 3.5 g/l to 4 g/l | 3.5 g/l to 4 g/l | 3.5 g/l to 4 g/l |
| Cell maintenance | Polarity inversion | Polarity inversion | Polarity inversion |
| Reccomended current production (factory set) | 4A | 7A | 10A |
| Number of plates par electrode | 7 | 7 | 7 |
| Power supply | 230V/50 Hz | 230V/50 Hz | 230V/50 Hz |
| Consumption | 70 W | 70 W | 70 W |
| Protection index | IP-45 | IP-45 | IP-45 |
| Insulation | Class II | Class II | Class II |
Accessories
Electrolyser Astral sel clear
Supplied
Electrolysing cell
Supplied
Union connections (50 diameter)
On option
pH regulation Smart pH
On option
Warranty
2 years
Photos non-contractual
Price incl. VAT
Ask for a free quote astral sel clear 30, 55 and 95 salt electrolyser
Other product : Astral Sel Clear 30, 55 and 95 salt electrolyser
Starting from 549 eur Including VAT.
Please fill in this form carefully. Our commercial service will handle your request promptly.
---
UK freephone hotline
Monday Friday 9.00 19.00, Saturday 10.00 18.00

---