Automatic water treatment and products

Salt water treatment, Salt electrolysis

Saltron Retro electrolyser
Saltron Retro electrolyser
Salt electrolysis is an efficient, comfortable method of disinfection. Independent and easy to use, limiting supervision of chlorine levels in the pool water.

The concept of an electrolyser is to transform sodium chloride dissolved in water into natural chlorine to eliminate bacteria and algae present in the pool.


Use

The Saltron Retro electrolyser is adapted to both inground or above ground pools (tubular, steel and wood) up to 75m3.

Using this method, no more manipulation or storage of water treatment chemicals. The required quantity of chlorine needed to treat the pool water is automatically regulated.


Installation and operation

User-friendly, just fix to the edge of your pool border and plunge into the water.

Once installed, connect your transformer to the power supply. Program production length and validate to start operation.

Salt present in the water will begin the process (approx 4 grams per litre) with some recharges during the course of the year. This system is very cost efficient.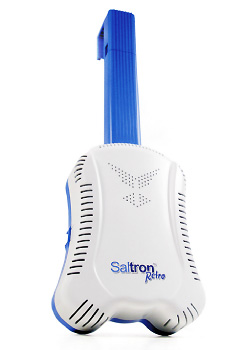 The command module

Situated on the front panel of the unit, settings and chlorine production adjustment can be used to program the unit (A), when the luminous signals indicate the level of production (B).

Production time includes two cycles (normal and inverted), alternating polarity of the electrodes to avoid limescale deposits.

This guarantees quality chlorine production and contributes to the long lifespan of pool material.


The kit includes: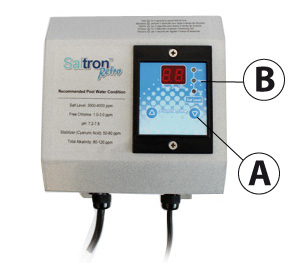 - The electrolyser with fixation kit,
- 1 command module with wall mounting kit,
- 1 electrolytic cell equipped with ruthenium and iridium covered titanium plates.
Fixation of unit

Installation for above ground pools
The electrolyser is placed at the top of the pool wall close to a discharge nozzle. No drilling required as a clamp fixation is used.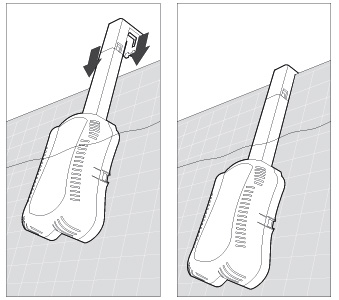 Installation in inground pools
Positioned on the pool border close to filtration discharge nozzle. The unit is suspended using a screw fixation on the top of your pool border.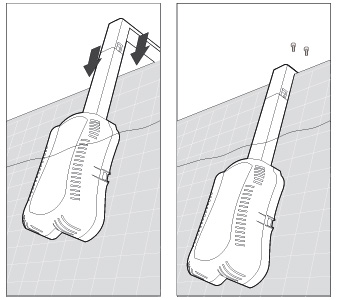 Technical characteristics
Transformer power supply
Single phase 230v/50Hz
Low voltage power supply
DC-12V
Salt level present in water
4g/l
Volume of pool
From 40 to 75m³
Cell maintenance
Polarity inversion
Dimensions of cell
300 x 230mm
Dimensions and weight of electrolyser
L35,6 x w12,7 x H61cm, 3,6kg
Recommendations :
-
Check your filtration pump is compatible with a salt electrolyser
- The pool water pH level should be between 7 and 7,4. Treatment by electrolysis heightens water pH. We recommend that you associate a dosing pump to regulate your pH level in an automated manner.
Warranty
2 years
Photos non-contractual
Price incl. VAT
Ask for a free quote saltron retro electrolyser
Other product : Saltron Retro electrolyser
At best price 444 eur Including VAT.
Please fill in this form carefully. Our commercial service will handle your request promptly.
---
UK freephone hotline
Monday Friday 9.00 19.00, Saturday 10.00 18.00

---