Pool covers - pool covering solutions

Pool reels

ASTRAL F1 automatic roller for barred pool cover
ASTRAL F1 automatic roller for barred pool cover
The Astral F1 electric roller means you can roll, without effort, your barred pool cover with maximum dimensions of 5m x 11m. Easy to use in all environments and user-friendly with its ergonomic control panel.
A great capacity of autonomy ensures up to 40 openings without recharging (the number of cycles depends on the pool dimensions) and adapts to the majority of barred covers on the market.
Details of the automatic F1 roller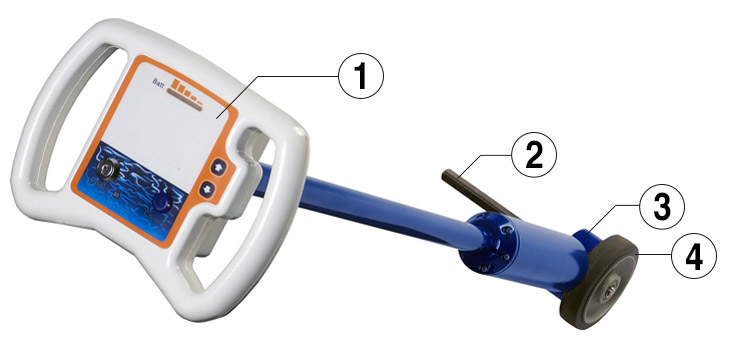 1. Control panel, 2. Rolling block 15 X 15 mm, 3. Torque multiplier 4. Wheel.

Once engaged, the drive shaft of the F1 allows you to roll your pool cover.

The lacquered control panel commands the rotation direction. Functions with key (stop/start/recharge) and luminous signals for an instant vision over the charge of the unit's battery (5 levels).

The wheel operates with an anti-trace treatment that avoids all marking on your pool surround and other supports. The integrated torque multiplier eases the rolling action, lessening effort.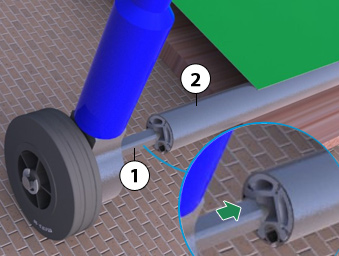 1. Rolling block, 2. Rolling bar
The control panel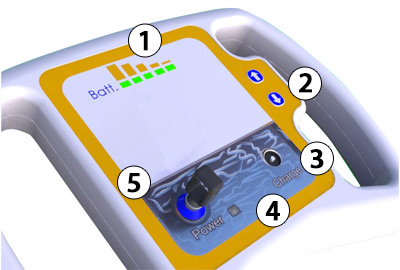 1/ LED indicators show level of battery charge,

2/ Choice of rolling direction,

3/ Connector for battery recharge,

4/ LEDs are luminous when the roller is connected to the power source,

5/ Start/stop key
Wall support and battery charge
Fixation of the wall support

The rollers wall support should be installed close to a 220 Volt domestic plug.
Adjust to the desired height, preferably at the same height as the rollers handle (ref photo to the right).
Anchor the support using the supplied dowels and screws.


Charging the batteries

Place the roller on the wall support.
Remove the protective seal.
Plug the roller into the charger.
For an optimal charge, leave plugged in overnight.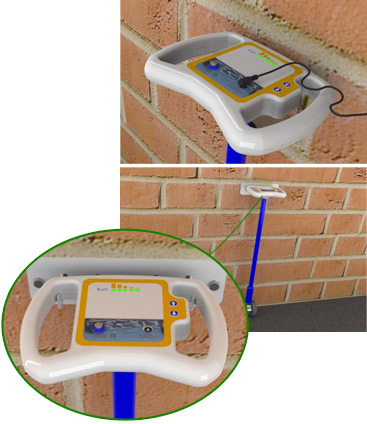 Delivered with: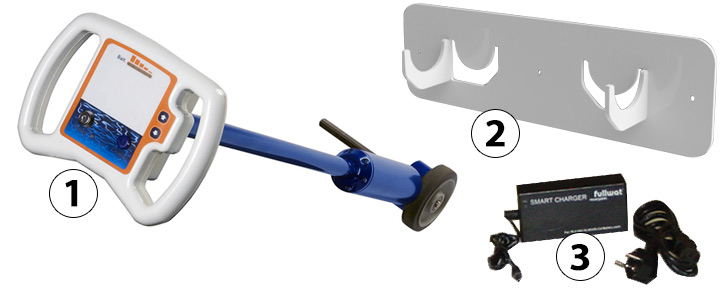 1.
Astral F1 roller
2.
Wall support,
3.
Charger (220V/24V).
Dimensions of roller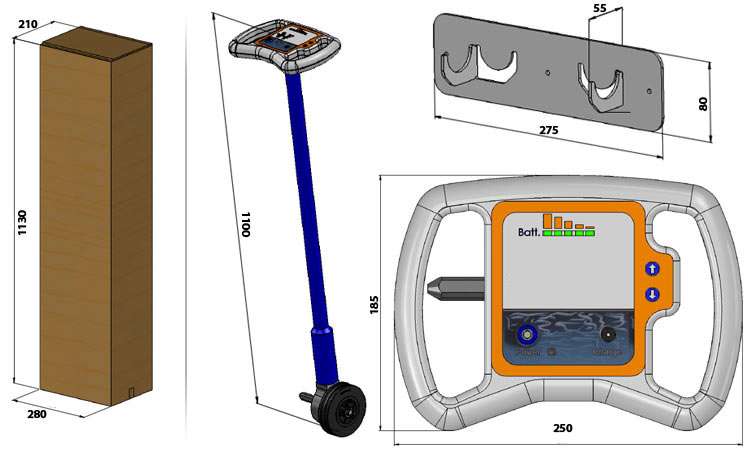 Warranty
2 years
Photos non-contractual
Price incl. VAT
Ask for a free quote astral f1 automatic roller for barred pool cover
Other product : ASTRAL F1 automatic roller for barred pool cover
At best price 787 eur Including VAT.
Please fill in this form carefully. Our commercial service will handle your request promptly.
---
UK freephone hotline
Monday Friday 9.00 19.00, Saturday 10.00 18.00

---
Spare parts order
You are looking for a spare part for «ASTRAL F1 automatic roller for barred pool cover » ?
Please click the button below. Our commercial service will handle your request promptly.