Pool equipment

Pool lighting, projectors and bulbs...

SeaMAID lighting projectors
SeaMAID lighting projectors
SeaMAID proposes a wide range of garden and pool lighting :
LED bulbs, lighting projectors, stainless steel spots...

The SeaMAID line benefits from rigorous quality control testing.
Each Seamaid product carries a standard guarantee during 24 months.

Each lamp has been designed to diffuse light in a homogeneous manner, promoting visual comfort. The plastic parts are soldered using ultrasound, guaranteeing a perfectly waterproof unit.

Seamaid LED technology guarantees a better lifespan with a lower consumption and a lower heating effect than an incandescent light bulb .

To develop their quality technology further, Seamaid has designed a radio-controlled model allowing you to adapt different projectors from a distance, depending on the desired atmosphere.

.

The diverse SeaMAID lighting projectors
The Seamaid Universe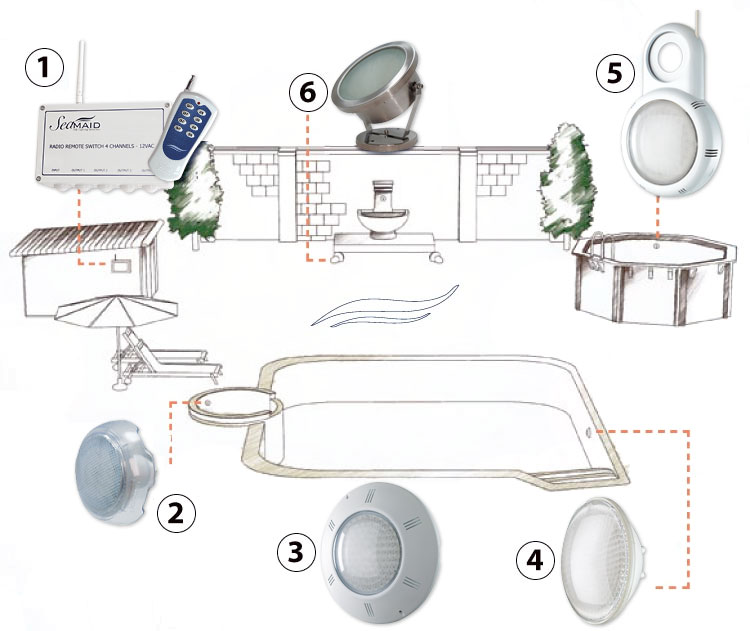 Situated in the technical shelter, the SeaMAID radio command (
1
) enables you to control the following diverse lighting systems :
- Mini-projector, designed to valorise an infinity spa or perhaps with immersed borders...(
2
),
- Flat pool lighting projector (
3
),
- LED bulb, replacing an old incandescent bulb (
4
),
- Lighting projector for above ground pool (
5
),
- Submersible stainless steel lighting projector to valorise a fountain or an ornamental border for example. (
6
).
Remote controls SeaMAID
All the SeaMAID remote controls are powered by a MN23 12V battery and need to be programmed with the projector or bulb before their first use.

Their carrying range is 10 metres outdoors, without obstacles (antenna pointing towards lamp).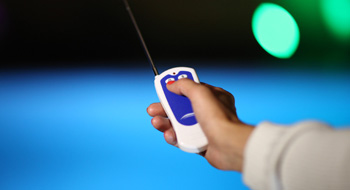 Synchronisation in 5 easy steps
Synchronisation of the remote control
1
. Light the lighting projector via the electrical distribution box.
2
. Cut the lighting projector, count 10 seconds and light it again.
3
. Repeat 2 successive Off/On cycles and the light the projector again.
4
. Place the battery into the remote control and simultaneously, push the buttons "O" and "S" of the remote control.
5
. The projector confirms synchronisation with the remote control and flashes several times.
Ask for a free quote seamaid lighting projectors
Other product : SeaMAID lighting projectors
Starting from 119 eur Including VAT.
Please fill in this form carefully. Our commercial service will handle your request promptly.
---
UK freephone hotline
Monday Friday 9.00 19.00, Saturday 10.00 18.00

---