Automatic water treatment and products

UV treatment

BIO UV water treatment system
BIO UV water treatment system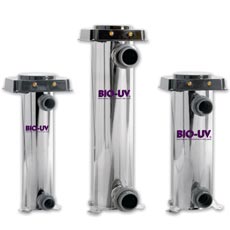 Recommended retail price 2023 starting from :
Our Price starting from :
Ref. Abatik 000508
Ref. Provider upk000031
BIO-UV170 maximum filtration 17 m3/h
Water disinfection treatment using UV rays,
Easy installation,
Efficient and user-friendly,
Ecological, compact and compatible with all filtration systems.
In stock
Water treatment using UV sterilisation
The sun emits invisible light : Ultraviolet rays. Bio-UV water treatments reproduce this natural phenomenon using last generation, powerful lamps that emit UV-C rays.
At 254 nanometers, the optimal wavelength to eradicate micro-organisms (virus, bacteria, algae, mildew...) are UV-C rays. Capable of penetrating the DNA that perturbs the metabolism of the micro-organisms cells till destruction. All germs, are, therefore, inactive (including legionella and cryptosporidium) and cannot reproduce .

The BIO-UV treatment chambers are dimensioned in relation to the capacity of the filtration pump. It is the combination of time the pool water is in contact with the treatment chamber and the power of the lamps that guarantees the dose required to eradicate 99,9% des micro-organisms (expressed in millijoules / MJ).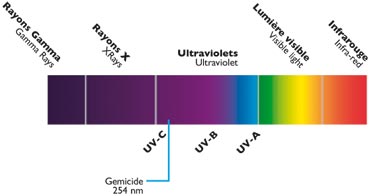 Operation
BIO-UV is a water treatment concept without chlorine that is based on technology and disinfection via the ultraviolet light of type C. Today, more than 20 000 residential pools and spas are equipped with this type of water treatment. It is also certified for public use.
During the filtration cycle, water circulates inside the BIO-UV treatment chamber. Bacterias, virus and algae are eradicated using the lamps rays.
This purification process is prolonged by means of the dosing pump that injects daily a small quantity of active oxygen (without chlorine) to continue disinfection and prevent the apparition of algae on pool walls.
A probe allows the automated regulation of active oxygen which depends on the water temperature.
Advantages
Efficient
: Using the combined action of UV-C rays and the daily addition of a small amount of active oxygen that prolongs the action of UV's.
Protector
: Ensures clear healthy water without aggression for the user's skin, hair, eyes or mucosa with an incomparable level of comfort.
Biodegradable
: Using ultraviolet light and products without chlorine, the residue of your pool water is naturally eliminated without toxic waste being evacuated into the environment.
Environmentally friendly
: No chlorine, no salt (avoiding corrosion and chlorine residue), no toxic chemicals, no allergy risk, no corrosion or odours.
Dependable
: No complicated electronics. The lamp should be changed every 13 000 hours.
Automatic
: By means of a dosing pump and pH regulator, PH BIO-UV, users interventions are reduced to a minimum.
Compatibity
: Compatible with all types of pool finishes and materials.
Installation
: Easy and fast.
Installation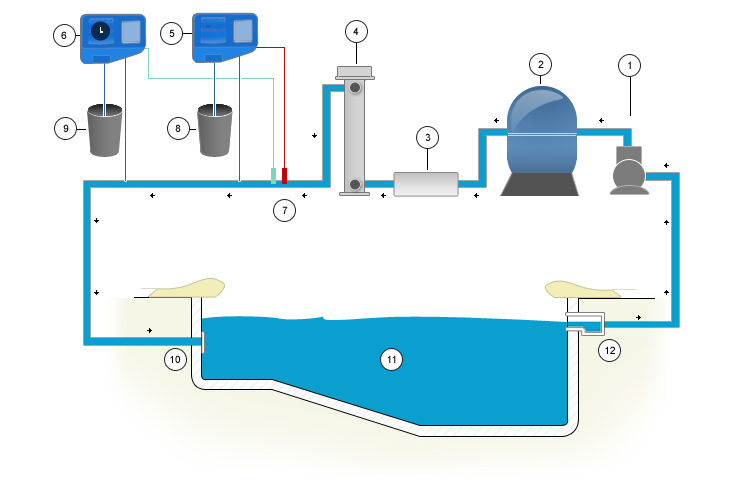 1. Filtration pump
2. Filter
3. Heating (On option)
4. BIO-UV
5. PH dosing pump
6. BIO-UV dosing pump
7. Temperature probe
8. pH (+ or -) correcting liquid
9. Active oxygen
10. Refoulement
11. Pool
12. Skimmers
Contents of pack
The BIO-UV pack includes :

1. 1 316L stailess steel steriliser
2. 1 Tempo dosing pump with clamp saddles
3. 1 temperature probe to enable liquid injection of active oxygen.
4. 1 BIO-UV CHOC 10L
5. 1 BIO-UV OXYGENE-REMANENT 10kg
6. 1 BIO-UV Algicide SPECIAL 5L
Technical features
| | | | |
| --- | --- | --- | --- |
| Description | BIO-UV170* | BIO-UV250* | BIO-UV340* |
| Maximum flow of filtration circuit | 17m3/h | 25m3/h | 34m3/h |
| Milijoules performance with advised filtration flow | 30mj | 30mj | 30mj |
| Lamp (number and capacity) | 2 x 55W | 2 x 55W | 2 x 87W |
| Lifespan of lamps | 13 000h | 13 000h | 13 000h |
| Total height | 67cm | 68cm | 94cm |
| Weight | 7,9kg | 11kg | 14kg |
| Inlet / outlet | 50cm | 63cm | 75cm |
| Union connections included | Yes | Yes | Yes |
*
Contact our international customer support team on
+ 33 475 802 962
to find out which model is best adapted to your pool configuration.
Reccomendations for use
Reccomendendations for liquid injection use
Temperature of water
Injection required for dosing pump probe
< less than 24°C
Injection required x 1
24 to 30°C
Proportional injections required depending on the temperature (Ex. At 27°C, injections required x 1,5)
> Greater than 30°C
Injections required x 2
It is essential to ensure :
- Filtration during the day (during swimming and sunny periods)
- Respect the duration of filtration cycles :
| | | | | | |
| --- | --- | --- | --- | --- | --- |
| Water temperature | 20°C | 22°C | 24°C | 26°C | 28°C |
| Duration of filtration | 10h | 12h | 14h | 16h | 24h |
Optional equippment
BIO-UV pH automated regulation pump

The BIO-UV pH completes the pool UV treatment. This unit adjusts the pH in a precise manner for incomparable swimming comfort.

Regulating the BIO-UV pH is very easy and totally automated as it is associated with the installation of UV treatment. Your pool pH is automatically regulated in coherence to your UV treatment.

When using this pump, the development of limescale deposits, cloudy or whitened water is avoided.

The BIO-UV limits the apparition of algae and bacteria, ensuring better action of disinfecting products while reducing the consumption of chemical products.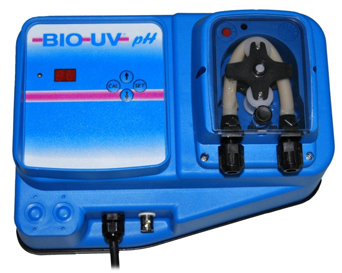 COMBIPOOL package

Combipool is a 2 in 1 package which associates disinfection and pH regulation depending on three parameters (volume of the pool, pH and water temperature).

SIMPLE
Combipool allows you to adjust, without manipulation, the injection of your liquid product (active oxygen, liquid chlorine... ) and pH regulation. Whatever your pool volume may be, Combipool adapts automatically the injection performed, adhering to the BIO-UV protocol.

ECONOMIC
By measuring the pool settings (temperature, pH) and injecting optimal quantities of product.
SECURITY
By means of proportional pH regulation, Combipool maintains a precise threshold to avoid overdosing. For optimal security, regulation stops if the probe detects a pH level which is too far from the set threshold point.

Easy installation
The pack includes all the equipment needed to install the unit. Combipool is easily inserted into the filtration system.
Combipool offers a «4 in 1» shaft. Probes and injection tubes are together. Combipool can be connected to the BIO-UV. You are no longer required to ensure connection at your filtration box!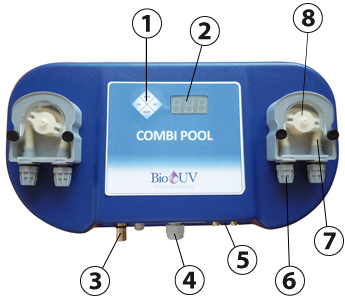 1
. 4 touch panel

2
. Digital display

3
. pH probe connection

4
. Power supply

5
. Temperature probe connection

6
. Connection

7
. Santoprene

8
. Tablet holder
Technical characteristics
Dimensions
215 x 180 x 130mm
Fuse
315mA electronic card, 2,5mA UV reactor
Dosing pump flow
2,4 litres/hour
Dosing pump outlet pressure
Maximum 1 bar
Installation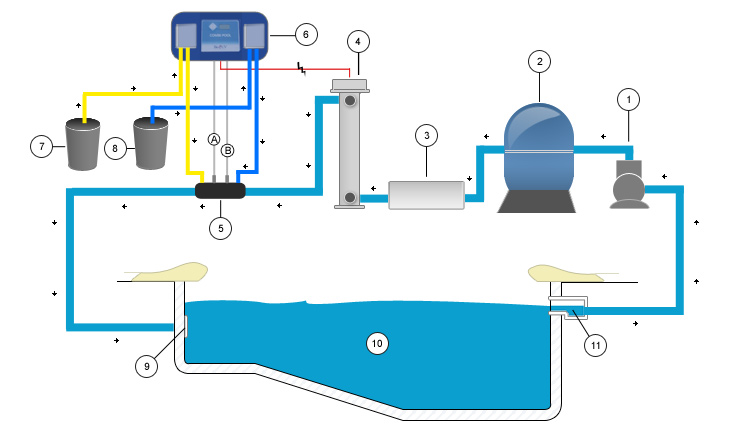 1. Filtration pump
2. Filter
3. Heating (on option)
4. BIO-UV
5. "4 in 1" shaft
6. Combipool
7. pH (+ or -) liquid corrector
8. Active oxygen
9. Discharge
10. Pool
11. Skimmers
A. pH probe, B. Temperature probe
Contents of pack
Combipool includes :
- 1 Combipool unit
- 1 pH probe
- 1 pH probe support
- 1 temperature probe
- 1 "4 in 1" shaft
- 2 injection valves
- 2 suction sieves
- 2 suction/injection tubes
- 1 fixation kit
- 1 pH4 and pH7 solution kit
- 1 accessory opening cap
- 1 UV connection
Warranty
5 years on stainless steel chamber except in very corrosive environments (brackish to highly saline)
2 years on other componants, (except UV lamps)
2 years on dosing pump BIO-UV Tempo (except wear and tear parts)
UV lamps do not carry a guarantee
Photos non-contractual
Price incl. VAT
Ask for a free quote bio uv water treatment system
Other product : BIO UV water treatment system
Starting from 4202 eur Including VAT.
Please fill in this form carefully. Our commercial service will handle your request promptly.
---
UK freephone hotline
Monday Friday 9.00 19.00, Saturday 10.00 18.00

---
Spare parts order
You are looking for a spare part for «BIO UV water treatment system» ?
Please click the button below. Our commercial service will handle your request promptly.