Pool covers - pool covering solutions

Security covers and barred covers for pools

WALU POOL StarLight
WALU POOL StarLight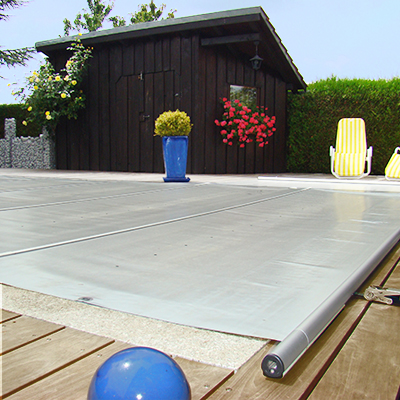 Recommended retail price 2023 starting from :
Our Price starting from :
Ref. Abatik 000396
Ref. Provider OPAQUE
WALU POOL STARLIGHT opaque 4 season barred security cover
4 season barred cover
Opaque or solar canvas
For rectangular pools with maximum dimensions of 11m x 5.5m
Interchangeable sections in case of canvas deterioration

Complies with standard NF P 90-308
In stock
Even easier manipulation, top of the range esthetics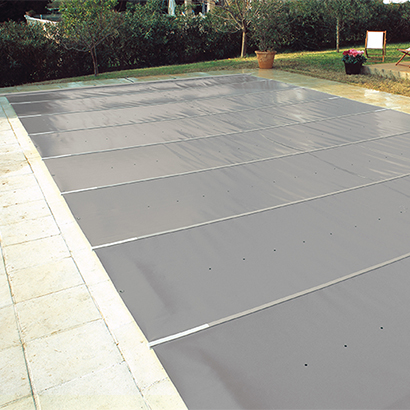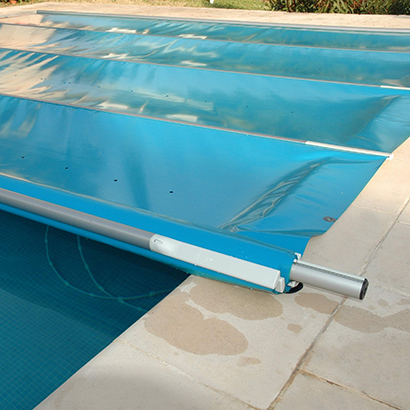 The WALU POOL Starlight
for rectangular pools only
maximum dimensions 11m x 5,5m
The
WALU POOL barred pool cover
WALU POOL covers are designed with one concept in mind - Pool user's security

*scheduled delivery 3 weeks after order
** Overlap + 40cm on the parameter of the pool to ensure correct cover hold.
- Anodised aluminium profiles.
- PVC interchangeable panels (patented system) linked by the aluminium bars .
- Reinforced PVC 650g/m², with anti-UV, anti-abrasion and anti-staining treatment.
- Perforated on its surface to allow the evacuation of rainwater, avoiding the formation of stagnant water pools on the cover's surface.
For covers lesser than 20m² : contact us for your personalised quote
Stair cut (not counting material) : + 80€ incl VAT

Features
The aluminium profiles are positioned on the covers underside and the bars flat extremities are positioned on the pool surround, permitting very easy manipulation coupled with top of the range esthetics.

The cover is composed of half-rounded support bars made from anodised aluminium are positioned on the underside of the cover, interchangeable panels made from flexible, composite canvas that benefits from an anti-abrasion treatment as well as a dependable peripheral fixation system, the key to an optimal security system.

WALU POOL : pool protection and cleanliness all year round !

By means of its concept and peripheral sealing system means your pool stays clean throughout the year. This type of cover replaces a summer cover and reel, winterizing cover and any other pool security device.

Its reduced weight offers easy handling.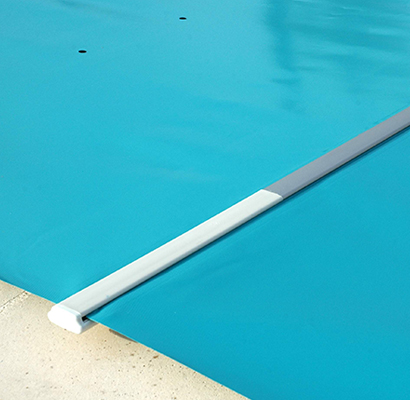 STARLIGHT aluminium profiles
positioned on the underside and the bars flat extremities are positioned on the pool surround
Interchangeable, modulable panels
WALU POOL : The only barred pool cover with interchangeable panels !
The
Patented, exclusive WALTER system
The panels and anodised aluminium tubes
that the cover is composed of are
interchangeable
and can be replaced individually if repairs are needed.
The panels can be individually removed and so in the case that your cover is ripped, for example, only the damaged portion can be replaced rather than the whole cover.

2 types of peripheral fixations :
For security:
Using ratchet tensioners
on the covers lengths (fast and easy)
For poor weather conditions :
Using bungee tensioners on the covers lengths
(positive point for winterizing use)
Optional fixations
Fast connections on the length of the cover. Does not include stainless steel ratchet tensioners.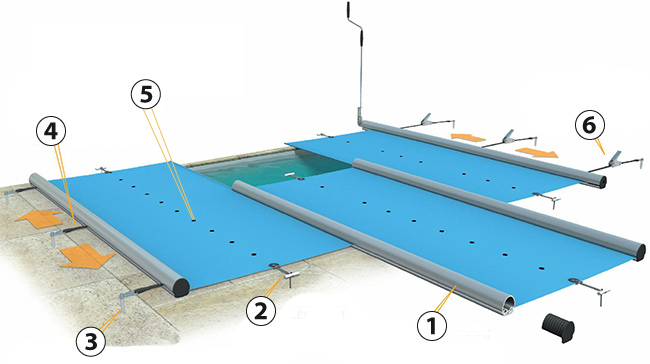 1) Anodised aluminium structural bars with anti-abrasion protection
2) Anti lifting kit
3) Stainless steel retractable bolts
4) Belts (with adjustable tension) storage side
5) Rainwater evacuation cavities
6) Stainless steel ratchet tensioners on rolling side
Leaf protection and anti-lifting system
This system offers perfect hold of the cover on the whole length of the pool, indicating that the cover no longer lifts so dirt, debris and leaves can no longer enter your pool water.

Thermo-bonded and positioned on the two lengths of the cover, this system can replace Cabiclic fixation eyelets.
This indicates easy manipulation and installation without the requirement to drill holes or have bolts around your pool border.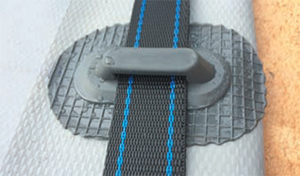 Two versions of the cover : Solar or Opaque

Solar
By day, the cover captures and hold the calories from the sun, creating a thermo-insulating layer, avoiding calorie loss during the night hours. Water is reheated, economising energy. The duration of use of your cover is therefore lengthened.
Opaque
By
blocking light
, the development of algae and pathogens is slowed. The use of chemical treatment products is, therefore, considerably reduced.
Available colours of the cover
7 available colours for the opaque version of the cover and 1 colour for the solar version.

Blue

Midnight Blue

Switzerland green

Sand

Moka (available from April 2017)

Grey

Anthracite grey

Translucide white
Cover use and storage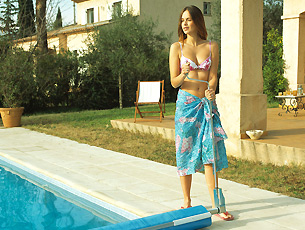 A guiding strap allows you to unroll your cover, quickly and effortlessly.

Required storage space is compact once rolled at the end of the pool.

The cover is supplied with a manual crank to facilitate rolling.

From inner pool dimensions of 10 x 5 m, two manual cranks are supplied with the cover.
Available on option : Motorised crank
Two choices of motorised cranks are available:
- For pool measuring 10 X 5 m maximum :
WALU COOL
- For pool measuring 11 X 5 maximum :
WALU POWER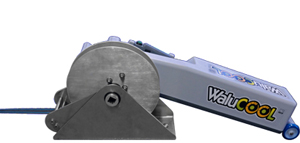 Walu COOL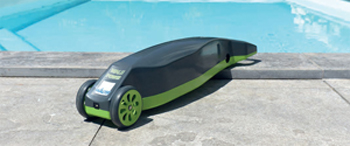 Walu POWER
Winch option to un-roll your cover
You may require a motorised solution to unroll your cover.
The Walu WINCH is fixed to the ground surface at the end of the pool width, rolling the directional strap gradually.
It can be actioned by a crank or connected to the Walu POWER or Walu COOL.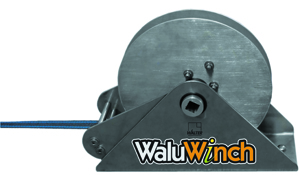 Guarantee and maintenance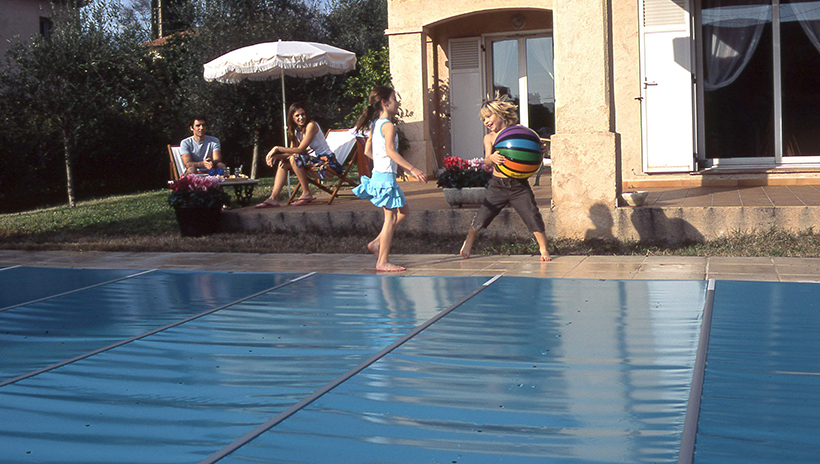 The cover as a whole, including its fixation system, should be inspected twice a year. A further inspection is required after an incident or period of extreme weather conditions (person falling on the cover, storm, heavy snowfall etc...) to maintain total security. It is imperative to change any damaged material or element. Forbid and stop pool access till repairs have been completed.
Security recommendations
- This security system does not replace common sense or individual responsibility.
- The cover should be systematically shut in the case of even the shortest absence.
Warranty
5 years on the cover
2 years on the manual crank
Photos non-contractual
Price incl. VAT
Ask for a free quote walu pool starlight
Other product : WALU POOL StarLight
Starting from 65 eur Including VAT.
Please fill in this form carefully. Our commercial service will handle your request promptly.
---
UK freephone hotline
Monday Friday 9.00 19.00, Saturday 10.00 18.00

---
Spare parts order
You are looking for a spare part for «WALU POOL StarLight » ?
Please click the button below. Our commercial service will handle your request promptly.