Automatic pool cleaners

Electric pool cleaners

Aquabot Bravo Top Special Edition
Aquabot Bravo Top Special Edition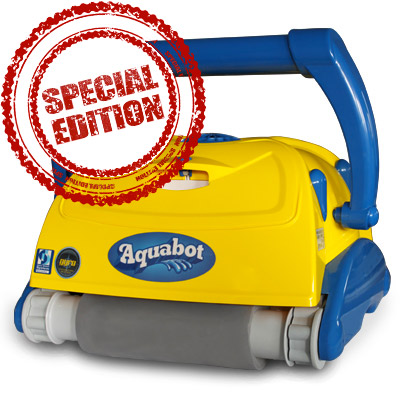 Recommended retail price 2023 :
Our Price :
Ref. Abatik 024440
Ref. Provider 64336
Aquabot BRAVO Top access special edition with trolley
For pools up to 80 m2,
Featuring Aquasmart and Gyro systems,
Compatible with all pool types and finishes,
Cleans pool floor, walls and waterline,
PVA brushes compatible with all pools,
3 filtration cycles,
Filtration capacity 20 microns.
The Bravo Top Special Edition pool cleaner in detail
The Aquabot Bravo Top Special Edition offers performance and energy savings, featuring a 24V high-speed motor that combines efficiency and dependability.
This pool cleaner's intelligent program optimises trajectory, its anti-blocking system allows directional change to avoid overheating and premature use.
Using its Aqua Smart system, you can efficiently and quickly clean your pool. High-density PVA brushes combine use with the oscillating motion of the brush situated on the cleaner's undercarriage action, associating long life and adherence.
The transportation trolley means you can easily transport and store your Aquabot Bravo Top Special Edition without the brushes touching the floor.
The filtration system of the cleaner uses a cassette system with direct access from the top side of the body. This proves to be ergonomic and facilitates maintenance.
Using a perfectioned transformer, this cleaner offers 3 cleaning programs: 1 hour, 1.5 hours and 2 hours; 3 cycles: the cleaning cycle can be programmed to start every 48, 72 or 96 hours.
Easy to use
The Aquabot Bravo Top is tractioned by an economical 24-volt motor.
Totally independent, its operation does not require connection to your pool filtration system, specific installation, specific verification or maintenance.
Instructions for use: Place the cleaner in your pool water (holding by the handle to evacuate air), plug in and commence your cleaning cycle! When the chosen cleaning cycle is complete, the Aquabot Bravo Top Special Edition switches off automatically!


1
PVA brushes and filtering brush situated on undercarriage
2
2 filtration cassettes
Aquacontrol technology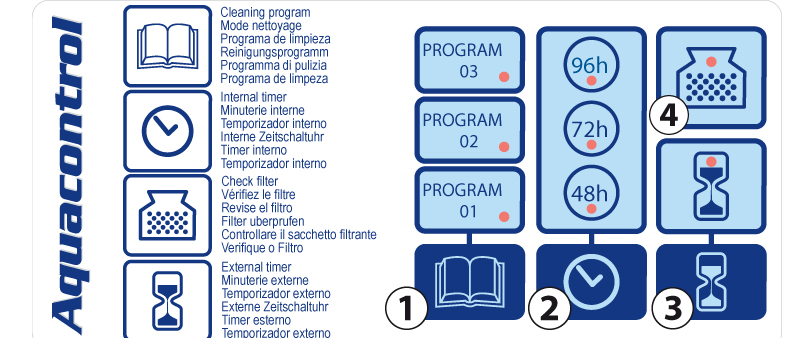 ;
The Aquacontrol system is a unique control panel that allows you to communicate directly with the cleaner to customise your cleaning cycle.
You can also program several settings so the cleaner will adjust its cycle to optimal efficiency.
The choice of possible settings are as follows :

1. Choice of cleaning program: 1 hour (pool floor only), 1.5 hours (cleans mainly the floor, light clean to pool walls and waterline), 2 hours (equal cleaning on pool walls, floor and waterline).

2. Choice of programmed automatic cleaning cycle (every 48, 72 or 96 hours).

3. External timer offers the possibility of programming cycle start time (timer sold separately).

4. Clogging indicator allows you to see filter status at a glance
Aqua Smart system
YouTube conditions the playback of its videos on the deposit of tracers in order to offer you targeted advertising based on your browsing.
By clicking on "I authorize" the plotters will be deposited and you will be able to view the video. You have the option of withdrawing your consent at any time.

For more information, visit the YouTube cookies policy
The Aquabot Bravo Top Special Edition
uses the Aqua Smart system : Intelligent system integrated into the cleaner's microprocessor enabling the unit to cover the whole pool surface systematically, without wasting time.
This technology offers several advantages:
- Quick cleaning
- Energy savings
- Lengthens the lifespan of components as there is less wear and tear on parts.
The Gyro system
is equipped with an intelligent navigation system called Gyro. Capable of correcting trajectory depending on the configuration and size of the pool by means of directional control.

Every 60 seconds (in NORMAL mode) or every 20 seconds (in HIGH mode), the cleaner scans its environment to determine pool shape, optimising its cycle.


In the case of the wrong direction being taken :
1. Without the Gyro system, the Bravo Top Special Edition does not correct its trajectory
2. With the system Gyro, the Bravo Top Special Edition corrects its trajectory independently

To clean angled contours of the pool :
3. Without the Gyro system, the Bravo Top Special Edition is unable to fit perfectly against angled contours of the pool
4. With the Gyro system, the Bravo Top Special Edition fits perfectly against walls, calculating automatically a 90° angle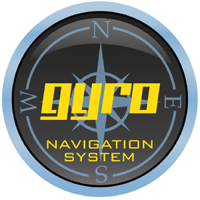 Adapted transportation trolley


The transportation trolley is the perfect accessory to transport and store the robot Aquabot Bravo Top Special Edition.


1. Handle
2. Handle screw
3. Outer casing screw
4. Trolley support
5. Cable support
5. Cable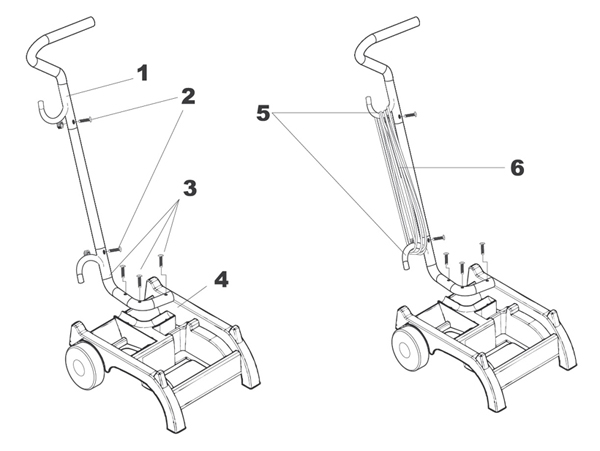 Pool cleaner with protection system
Switching on your pool cleaner out of water will put security mode into action, including the pump and low current transformer... If you switch on the low current transformer without the pool cleaner, the security mode will activate after 10 to 15 seconds.
For pools featuring an immersed border or infinity pool, the pool cleaner inverses its movement as soon as it emerges when reaching the water's edge. In the case that the unit does not return to the water, it automatically goes to security mode, (including its low current transformer).
If the pool cleaner turns over and cannot continue its movements, the pump will operate for 5 seconds. The drive system will forward/reverse and then go to security mode.
Technical characteristics
Supply voltage
230V /50 Hz – 115V / 60Hz
Low current supply voltage
DC-24V
Compatible pool shapes
Rectangular, round, oval or specific shape
Pool finish
Liner, PVC, ceramic, fibreglass, painted concrete
Maximum dimensions of pool
80 m2
Areas cleaned
bottom surface and walls of pool, waterline
Cleaning brushes
2 PVA brushes and oscillating undercarriage brush
Filtration capacity
20 microns
Number of cleaning cycles
1h, 1.5h or 2h
Cleaning system
Aqua Smart
Filter clogging indicator
Yes
Out of water detection
Yes
Dimensions and weight of cleaner
L37 x w43 x H27cm/ 19Kg (with trolley)
Pools with outboard filtration blocks
Check the depth measurement between the pools bottom surface and the deepest immersed part of your filtration block is ample to allow the easy passage of the pool cleaner in operation.
Discover the
whole Aquatron range
Warranty
2 years
Photos non-contractual
Price incl. VAT
Ask for a free quote aquabot bravo top special edition
Other product : Aquabot Bravo Top Special Edition
At best price 899 eur Including VAT.
Please fill in this form carefully. Our commercial service will handle your request promptly.
---
UK freephone hotline
Monday Friday 9.00 19.00, Saturday 10.00 18.00

---