Automatic pool cleaners

Electric pool cleaners

Aquabot Neptuno Top
Aquabot Neptuno Top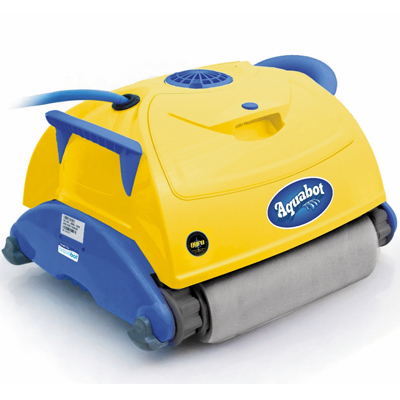 Recommended retail price 2023 :
Our Price :
Ref. Abatik 023465
Ref. Provider 64581
NEPTUNO top access electric pool cleaner
For pools up to 60 m2,
Featuring Aquasmart and Gyro systems,
Compatible with all pool types and finishes,
Cleans pool floor and wall contours,
PVA brushes compatible with all types of pools,
Fast cycle 1h30,
20 microns filtration.
In stock
The Neptuno Top electric pool cleaner in detail
Designed to clean pool floors with a maximum surface area of 60 m². Light in weight and effortless in operation. This pool cleaner is user-friendly and requires no adjustment for perfect cleaning.
Boasting excellent motricity and a filtering capacity of 18m3/h, efficiently suctioning dirt and debris.
It's cleaning program quickly maintains your pool floor using PVA brushes that are compatible with any pool finish, be it concrete, liner, polyester shell, reinforced PVC, mosaic...).
It's two filtration cassettes offer a capacity of 20 microns, collecting debris in an optimal manner.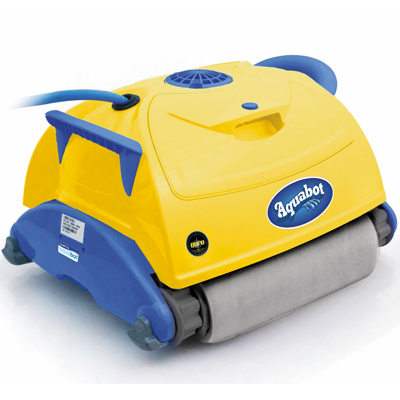 User-friendly
The Aquabot Neptuno Top is tractioned by economical 24-volt motors.
Totally independent, its operation does not require connection to your pool filtration system, specific installation, specific verification with minimal maintenance.
Instructions for use: Place the cleaner in your pool water (holding by the handle to evacuate air), plug in and commence your cleaning cycle! When the chosen cleaning cycle is complete, Aquabot Neptuno Top switches off automatically!
Aqua Smart system
YouTube conditions the playback of its videos on the deposit of tracers in order to offer you targeted advertising based on your browsing.
By clicking on "I authorize" the plotters will be deposited and you will be able to view the video. You have the option of withdrawing your consent at any time.

For more information, visit the YouTube cookies policy
The Aquabot Neptuno Top
uses the Aqua Smart system: an intelligent program integrated to the microprocessor, ensuring a trajectory that covers the pool surface systematically, without wasting time.
This cleaner is capable of covering the pool surface with a perfect clean in only 1h30.
This technology offers several advantages:
- Quick cleaning
- Energy savings
- Lengthens the lifespan of components by means of less wear and tear
The Gyro system
The Neptuno Top is equipped with an intelligent navigation system called Gyro. Capable of correcting trajectory depending on the configuration and size of the pool by means of directional control.

Every 60 seconds (in NORMAL mode) or every 20 seconds (in HIGH mode), the cleaner scans its environment to determine pool shape, optimising its cycle.

In the case of the wrong direction being taken:
1. Without the Gyro system, the Neptuno Top does not correct its trajectory
2. With the system Gyro, the Neptuno Top corrects its trajectory independently

To clean angled contours of the pool:
3. Without the Gyro system, the Neptuno Top unable to fit perfectly against straight angled contours of the pool
4. With the Gyro system, the Neptuno Top fits perfectly against walls, calculating automatically a 90° angle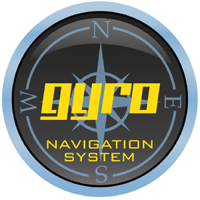 Aquacontrol technology
The Aquacontrol system is a unique control panel that allows you to directly communicate with the cleaner to customise your cleaning cycle. You can also program several settings so the cleaner will adjust its cycle to optimal efficiency.
The choice of possible settings are as follows:
1.
Cleaning cycle time : 1h30
2.
Cassette clogging indicator
Equipment
High-density PVA brushes are adapted to all pool finishes (concrete, liner, reinforced PVC, mosaic, polyester shell...), allowing optimal trajectory and cleaning of your pool floor and wall base.
Offering better resistance and superior lifespan than classic PVC brushes that can adapt to rougher surfaces.
The Aquabot Neptuno Top also features a filtering brush situated between the PVA brushes. Adjustable in height, this brush collects even the finest impurities.
The cleaners two filtering cassettes are easily accessible from the top of the cleaner to clean and maintain easily.
To clean, remove, rinse and replace.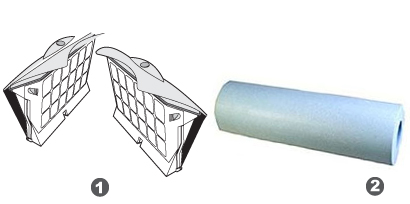 1.
Filtration cassettes
2.
PVA brushes
Pool cleaner with protection system
Switching on your pool cleaner will action the protection system including the pump and low current transformer... If you switch on the low current transformer without the pool cleaner, the security mode will activate after 10 to 15 seconds.
For pools featuring an immersed border or infinity pool, the pool cleaner inverses its movement as soon as it emerges when reaching the water's edge. In the case that the unit does not return to the water, it automatically goes to security mode, (including its low current transformer).
If the cleaner comes into contact with an object (ladder or another horizontal object) during its trajectory, the cleaner will try to avoid the object and continue its cycle. It an object (becomes stuck between the unit and it's brushes, the cleaner will try to free itself and continue its cycle. If this is impossible, the cleaner will go to security mode (including its transformer).
If the pool cleaner turns over and cannot continue its movements, the pump will operate for 5 seconds. The drive system will forward/reverse and then go to security mode.

Aquabot Neptuno Top pool cleaner
1
, low voltage transformer
2
Technical characteristics
Supply voltage
230V /50 Hz - 115V / 60Hz
Low current supply voltage
DC-24V
Compatible pool shapes
Rectangular, round, oval or specific shape
Pool finish
Liner, PVC, ceramic, fibreglass, painted concrete
Maximum dimensions of pool
60 m2
Areas cleaned
Pool floor and wall base
Cleaning brushes
2 PVA brushes + 1 oscillating brush, situated on the undercarriage
Filtration capacity
20 microns
Number of cleaning cycles
1
Duration of cleaning cycle
1h30
Dimensions of cleaner
L x w x h (in cm) 37 x 43 x 26
Pools with outboard filtration blocks
Check the depth measurement between the pools bottom surface and the deepest immersed part of your filtration block is ample to allow the easy passage of the pool cleaner in operation.
Discover the
whole Aquatron range
Warranty
2 years
Photos non-contractual
Price incl. VAT
Ask for a free quote aquabot neptuno top
Other product : Aquabot Neptuno Top
At best price 799 eur Including VAT.
Please fill in this form carefully. Our commercial service will handle your request promptly.
---
UK freephone hotline
Monday Friday 9.00 19.00, Saturday 10.00 18.00

---