Automatic pool cleaners

Electric pool cleaners

Robot Kwadoo 2R
Robot Kwadoo 2R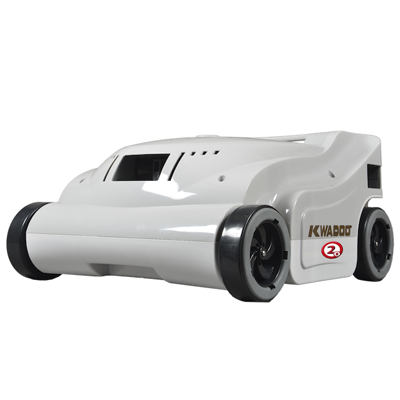 Recommended retail price 2023 :
Our Price :
Ref. Abatik 024223
Ref. Provider KWADOO 2R
KWADOO 2R electric pool cleaner
For pools up to 15 X 8 m,
Compatible with all pool floors,
Infrared wall detection system,
Innovating Quadri-Jet technology,
1x 40 micron and 1x 25 micron filter,
Automatic program,
120 W motor.
In stock
The Kwadoo 2R electric pool cleaner in detail
The Kwadoo condenses the essential of the latest pool maintenance technology. Using an ultra-performant motor and Quadri Jet technology, your
robot Kwadoo 2R
takes charge of your pool cleaning, regardless of its shape.
This cleaner's infrared automatic detection program senses when a wall is approached, changing direction in minimum time, optimising the duration of the cleaning cycle. In the case that the infrared sensor fails, the cleaner automatically goes to 10 x 5m program.
The Kwadoo 2R guarantees optimal maintenance all year round. Its motor is adapted for use even in cold water, allowing you to fully enjoy your pool without manual maintenance.
This model benefits from innovative switch-mode power supply technology. This allows the unit to operate in an optimal manner at 110V and 240V, avoiding difficulties linked to a variation of the voltage supply.
Discover the many advantages of this electric pool cleaner to facilitate everyday cleaning.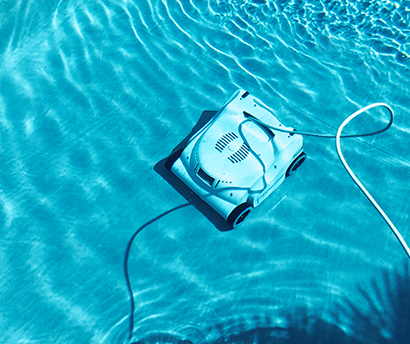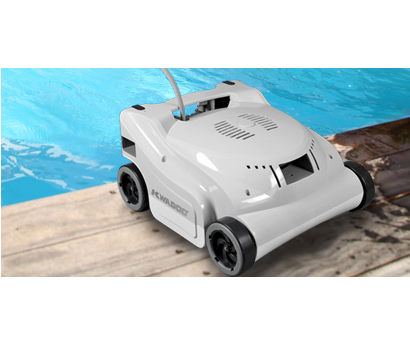 Advantages of the Kwadoo 2R at a glance

1.
High quality motor
2.
Patented "Quadri jet" system
3.
Infrared sensor
4.
"Soft clean" active cleaning
5.
Operational in cold water
6.
Filtration assistance program
7.
Compatible with all pool floor types
8.
Simplified electronics
9.
Large capacity filtration bag
Kwadoo 2R : The perfect alliance between technology and simplicity

The
Kwadoo 2R
pool cleaner exploits the latest technologies in the domain of suction and filtration, freeing you from the manual maintenance of your pool all year round. In addition to its performant equipment, the Kwadoo 2R electric pool cleaner allows a fast start-up being very user-friendly.
Using one, unique control button you can start the unit and program its settings
The electrical connection is simple, allowing immediate use. Lightweight (approx 6 kg), your Kwadoo pool cleaner is easily placed in the pool water. Its power cable is 15 meters in length, so your pool cleaner can reach one end of the pool to the other, ensuring optimal cleaning.
An adapted transportation trolley is available on option, to facilitate storage and transport.
Kwadoo 2R handeling and maintenance
YouTube conditions the playback of its videos on the deposit of tracers in order to offer you targeted advertising based on your browsing.
By clicking on "I authorize" the plotters will be deposited and you will be able to view the video. You have the option of withdrawing your consent at any time.

For more information, visit the YouTube cookies policy
Kwadoo 2R : A dependable and powerful motor for optimal cleaning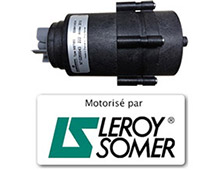 The Kwadoo 2R uses a powerful motor designed by the renowned French constructor LEROY SOMER®. This motor does not use belt or chain transmission, the cause of roughly 80% of breakdowns, due to wear and tear.
This motors performance allows the Kwadoo 2R to operate even during the Winter period in water at 1°C.
The Kwadoo 2R is a wise choice for all pool owners who wish to leave their pool uncovered during the Winter months. Your pool stays clean all year round.
The powerful motor of the
Kwadoo 2R
offers a fast trajectory, eliminating debris and dirt quickly and efficiently, providing a deep clean of the pool floor by means of strong suction action. It's cleaning cycle has a duration of between 1h30 and 2h30, depending on the surface there is to clean. Its powerful motor deep cleans the pool floor by means of powerful suction action.
Kwadoo 2R: High-performance components at your pool's service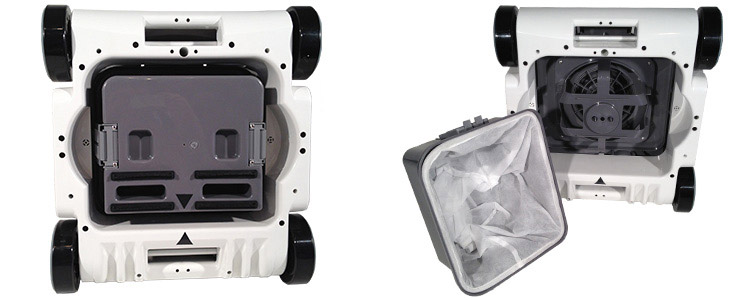 The Kwadoo 2R features a large capacity filter that collects a maximum amount of debris and dirt. Your pool cleaner is capable of capturing even the finest particles using the
filtration capacity of 40 microns.
The water suction action is favoured and concentrated using Soft Clean active cycle : Malleable deflectors positioned at the entry of the filter clean and cleanse the bottom surface of the pool, followed by the suction action. This active cleaning system effectively cleanses the pool finish without damage.
- Small wheels situated under the filter allow the Kwadoo to cope with gradients and therefore, the pool as a whole.

- The maintenance of the filter is simple - just rinse in clear water.

- Debris can perturb the smooth operation of the directional turret that allows the cleaner to effectuate its rotations.

- To avoid all dysfunction, clean the turret regularly simply using a hose spray.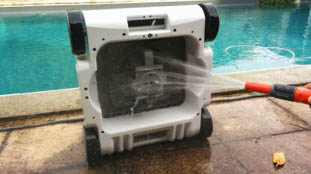 Cleaning the directional turret - easy and simple
Try the Quadri Jet innovating technology by Kwadoo 2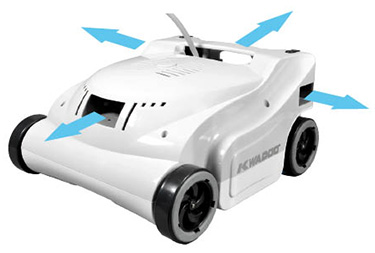 The patented Quadri Jet system allows your Kwadoo 2 electric pool cleaner to deep clean your pool, whatever the nature and quality of water.
The trajectory of the unit is powered by hydraulic propulsion on any type of finish. The Kwadoo 2 uses hydro suction and propulsion action to guide its movements. With the capacity to effectuate a 360° movement, the whole of your pool floor can be cleaned.
Quadri Jets technology ensures a trajectory without the need to climb the walls to change direction. This limits wear and tear, unlike most pool cleaners.
Working on only the bottom surface of the pool the Kwadoo 2 has a longer lifespan. Cleaning the pool walls is an option. A simple chlorine shock treatment is ample to make algae and other residues fall to the pool floor to be cleaned by Kwadoo 2R.
Discover Kwadoo 2R, a real complement for your pool filtration system

As well as a personalised program, your
Kwadoo 2 electric pool cleaner
equally features a "F" function for "filtration", in complement to your pool filter system. Once activated, your unit commences a complete cycle, during 6 hours, changing position every 15mins optimising water filtration.
With a pump flow of 18 m3 per hour, this program is a positive point for your pool operations. Your Kwadoo pool cleaner uses suction power throughout the whole pool floor with an optimal result: disposing of all impurities, even the finest, that your traditional filtering system cannot reach.
Technical characteristics
Compatible pool shapes
Rectangular, round, oval, specific shape
Compatible pool floors
All types except pyramidal or diamond point
Capacity of filtration bags
1 to 40 microns and 1 to 25 microns
Trajectory speed
1 m / 3 sec
Compatible pool finishes
All types of pool finish
Dimensions
L50 X w43 X h27
Transportation trolley
On option
Kwadoo 2R : Guarantee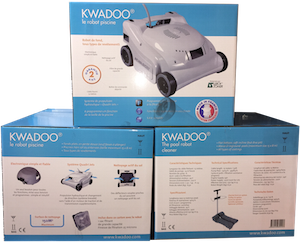 Your Kwadoo 2R electric pool cleaner has a full 2 year guarantee.
Warranty
2 years
Photos non-contractual
Price incl. VAT
Ask for a free quote robot kwadoo 2r
Other product : Robot Kwadoo 2R
At best price 599 eur Including VAT.
Please fill in this form carefully. Our commercial service will handle your request promptly.
---
UK freephone hotline
Monday Friday 9.00 19.00, Saturday 10.00 18.00

---
Spare parts order
You are looking for a spare part for «Robot Kwadoo 2R» ?
Please click the button below. Our commercial service will handle your request promptly.