Pool covers - pool covering solutions

Security covers and barred covers for pools

WALU POOL Advantage
WALU POOL Advantage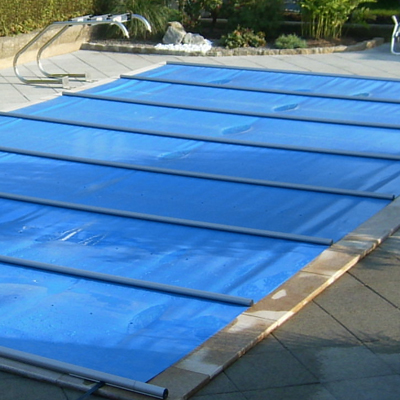 Recommended retail price 2021 starting from :
Our Price starting from :
Ref. 007367
Walu pool advantage opaque barred security cover blue conform to norm NFP 90-308
4 season security cover,
Interchangeable panels that can be replaced separately,
For rectangular or free-form pools with maximum dimensions of 10 X 5 m,
A range of 6 available colours in opaque canvas.
In stock
The Walu Pool ADVANTAGE in detail
WALU POOL : The only barred pool cover featuring interchangeable panels !
Exclusive patented system from WALTER : The cover's panels and andonised aluminium bars are interchangeable and can be replaced individually if required.
This advantage allows a partial repair to be carried out to your cover without the need to replace the whole surface area of the canvas. Modulable panels can be individually removed and replaced.
Compatible with rectangular or free form pools up to 10 X 5 m. If your pool is not rectangular, a "protection pad kit" should be used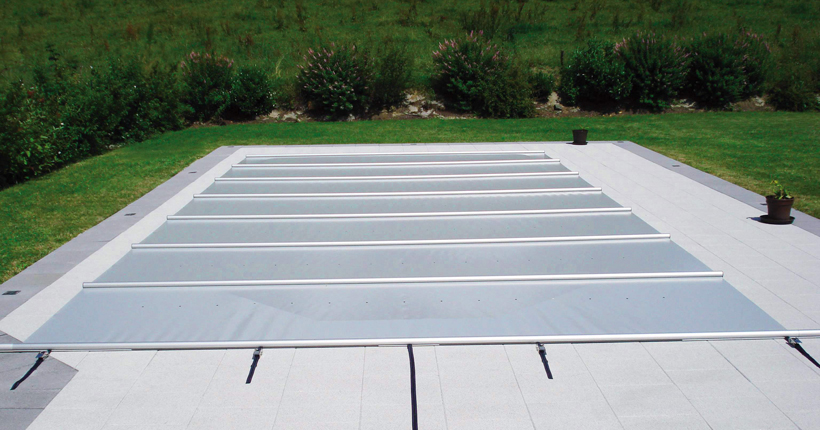 Available colours
The underside (side facing pool water) of the canvas is sand (except for grey) to avoid staining on your pool coping.

Anthracite

Almond

Blue

Grey

Sand

Green
Fixations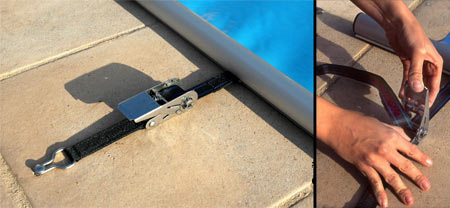 For fast, easy fixation offering maximal security this model features :

- With way fixation using straps and ratchet tensioners.
- An adjustable directional strap : movable, so adaptation of anchoring point is possible on the pool width. This is ideal if a filtration monobloc is used, for example.

Straps and ratchet tensioners secure the cover to the pool width.
They are anchored by stainless steel retractable pitons.
On option
Fast fixation connectors
Fast fixation connectors can be installed on the width of the cover.

Cover use and storage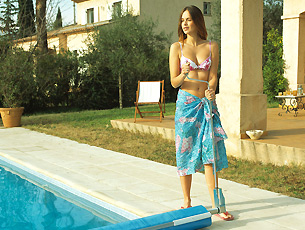 A guiding strap allows you to unroll your cover, quickly and effortlessly.

Required storage space is compact once rolled at the end of the pool.

The cover is supplied with a manual crank to facilitate rolling.

From inner pool dimensions of 10 x 5 m, two manual cranks are supplied with the cover.
Available on option : Motorised crank
Two choices of motorised cranks are available:
- For pool measuring 10 X 5 m maximum :
WALU COOL motorised crank for barred pool covers
- For pool measuring 11 X 5 maximum : WALU POWER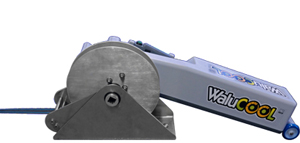 Walu COOL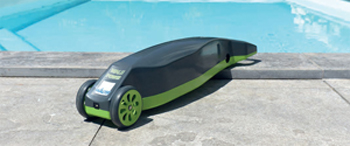 Walu POWER
Winch option to un-roll your cover
You may require a motorised solution to unroll your cover.
The Walu WINCH is fixed to the ground surface at the end of the pool width, rolling the directional strap gradually.
It can be actioned by a crank or connected to the Walu POWER or Walu COOL.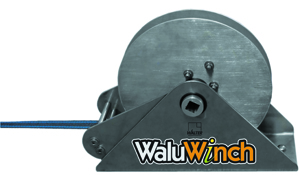 Guarantee and maintenance
The cover as a whole, including its fixation system, should be inspected twice a year. A further inspection is required after an incident or period of extreme weather conditions (person falling on the cover, storm, heavy snowfall etc...) to maintain total security. It is imperative to change any damaged material or element. Forbid and stop pool access till repairs have been completed.
Security recommendations
- This security system does not replace common sense or individual responsibility.
- The cover should be systematically shut in the case of even the shortest absence.
Technical characteristics
Composition
PVC canvas 580 g/m2
Average weight of canvas
1150 g/m2
Bars
Andonised aluminium, one indentation for panel insert - round - 37 mm in diameter
Overlap
40 cm on the pool length and width, being 20 cm per side
Warranty
3 years
Photos non-contractual
Price incl. VAT
Ask for a free quote walu pool advantage
Other product : WALU POOL Advantage
Starting from 46.50 eur Including VAT.
Please fill in this form carefully. Our commercial service will handle your request promptly.
---
UK freephone hotline
Monday Friday 9.00 19.00, Saturday 10.00 18.00

---
Spare parts order
You are looking for a spare part for «WALU POOL Advantage» ?
Please click the button below. Our commercial service will handle your request promptly.