Automatic pool cleaners

Electric pool cleaners

Dolphin Wave 300 XL electric pool cleaner for public pools
Dolphin Wave 300 XL electric pool cleaner for public pools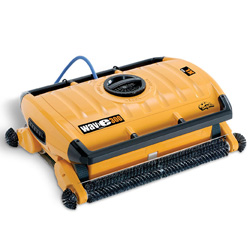 Recommended retail price 2020 :
Our Price :
Ref. 007606
Dolphin Wave 300 XL electric pool cleaner
Electric pool cleaner for public and Olympic pools up to 60m,
Cleans bottom surface and angles,
Delivered with transportation trolley
remote control or automatic program

In stock

The Dolphin Wave 300 XL is a top of the range product designed specifically for Olympic centres, aquatic parks and other leisure centers featuring a public pool 25m to 60m in length.

This cleaner ensures a total clean of pools with large dimensions. The intelligent navigational system guarantees a deep, detailed clean of any pool shape or type in record time.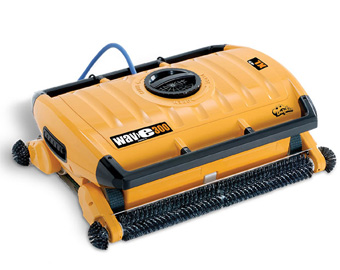 .
The Dolphin Wave 300 XL in detail

The Dolphin Wave 300 XL pool cleaner features eight brushes (two front, two rear and four lateral) conceived to cleanse stubborn dirt and debris on all pool finishes (liner, concrete, tiles). The combination of the 8 brushes ensures a total, deep clean of the bottom surface and angles of the pool.

The Dolphin Wave 300 XL uses an advanced navigational system: functioning with an integrated gyroscope and compass, the unit effectuates a total clean of the whole pool. From the moment the unit is placed in the pool water the profile of your pool is calculated and the cleaning cycle is determined. Its gyroscopic system ensures precise sweeping and maintains its course, even in pools with a sloping bottom surface.

This pool cleaner is compatible with all bottom surface gradients: flat, gentle slope, composed slopes, diamond points and diving pools

Featuring a powerful pump with a flow of 40m³/h the Dolphin Wave 300 XL uses suction action on the debris and stocks in the large capacity filter bags.
There are three capacities of filter bags, 50, 70 and 150 microns, delivered with the cleaner. You can choose the finesse of the filter bag used to correspond with the clarity of your pool water at the moment of use.

The Top Access system simplifies maintenance operations by giving access to filter bags via the upper casing of the cleaner. Fast and easy filter care: Rinse in clear water to renew the filter power of your cleaner.

The trolley facilitates transportation and storage of the pool cleaner after use. Made from stainless steel featuring a cable storage roller. The roller uses a pivot mechanism allowing the cable to be rolled during operation. This avoids a tangled cable and limits the risk of premature wear and tear.

The MMI (Man Machine Interface) display panel: Easy to use, directly positioned on the transportation trolley offering total control during cleaning of the duration of the cycle, intelligent scan system and technical settings.

A full filter bag indicator is also featured: this red light stays off during normal use and lights once the bag is full.
This pool cleaner affords automatic operation when entering and exiting from the pool water. It allows you to choose the cleaning cycle and obtain an eventual error report. The LCD display panel gives clear and precise information so you can easily follow the operation of your Dolphin Wave 300 XL.
The advantages of the Dolphin Wave 300 XL
- Eight active brushes cleanse stubborn dirt and debris ensuring a complete, deep clean of the pools bottom surface and angles.

- The intelligent algorithm uses a gyroscope and compass giving an efficient clean of the pool, regardless of its shape and gradient.

- The interactive interface gives you the control of the pool cleaning and selection of cycle.

- The remote control allows the cleaner to be manoeuvred from a distance.

- The delayed start with automatic immersion function means your unit can clean the pool without your intervention. Just exit the unit from the pool water when cleaning is complete.

- The filter bags offering varied filtering capacities let you choose the bag that corresponds to the degree of filtering required for your pool water at a certain time.

- The pool cleaners maintenance is fast and easy using the Top Access system.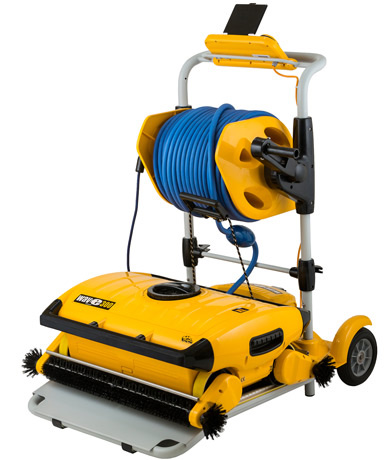 Transportation trolley
Technical features
Low voltage power supply
DC-40V
Maximum dimensions of pool
Up to 60m in length
Compatible finishes
Liner, PVC, tiles, fiberglass, painted concrete
Bottom surface
Flat and gentle slopes, diamond points
Cleans
Bottom surface and angles
Cleaning brushes
Double brush / 4 sided brush for deep cleaning. For all pool finishes.
Filtration capacity
50, 70 or 150 microns
Available modes
Automatic mode or manual mode by remote control
Range of remote control
50m
MMI
Interactive display panel - Selection of cleaning cycle and technical diagnostic
Trajectory
15m/min / XL trajectory system
Cleaning surface
9 m² / min equating to 540m²/h
Number of cleaning cycles
3
Duration of cleaning cycles
Between 1 and 8 hours
Length of cable
43m. 50m optional
Full filter indication
Yes
Transportation trolley
Stainless steel with cable storage roller
Dimensions of unit L x w x H
80 x 60 x 29cm
Net weight of unit
25kg outboard - 5 kg in water
Guarantee
2 years or 3000 worked hours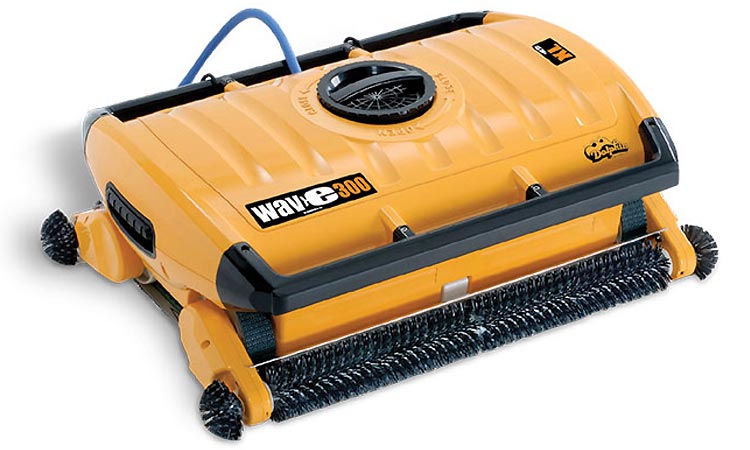 Warranty
2 years
Photos non-contractual
Price incl. VAT
Ask for a free quote dolphin wave 300 xl electric pool cleaner for public pools
Other product : Dolphin Wave 300 XL electric pool cleaner for public pools
At best price 10890 eur Including VAT.
Please fill in this form carefully. Our commercial service will handle your request promptly.
---
UK freephone hotline
Monday Friday 9.00 19.00, Saturday 10.00 18.00

---
Spare parts order
You are looking for a spare part for «Dolphin Wave 300 XL electric pool cleaner for public pools» ?
Please click the button below. Our commercial service will handle your request promptly.